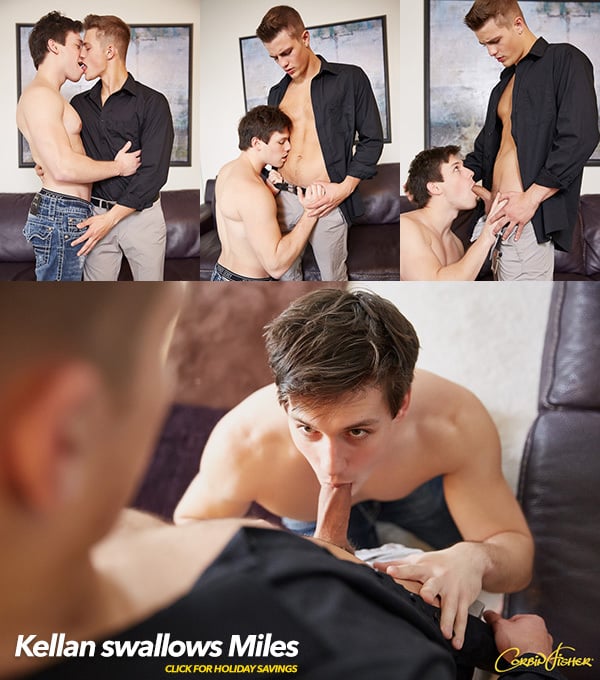 If we believed everything we see in gay porn, we'd have to admit that most men are hung, and a good percentage are extraordinarily large. Meanwhile, the rest of us, whether we're hung or not, are pushing and shoving our way to the front of a throng of cocksuckers dying to fall to our knees, or bend over, or both. But that's not reality. Still, while sharing our weekend conquests around the gay water cooler, we often try to out do one another in the game called "How Big Was Your Trick's Cock?"
Miles is brand new to Corbin Fisher. He's 19 years old, so he says he's always horny -- weren't we all? He's good looking and confident, but well mannered. He also says that he's almost 100% bisexual, meaning that he likes guys and girls pretty much equally. But when Kellan first slips Miles' stiffening cock all the way into his mouth, Miles pants, "Oh man, a guy's mouth always feels better." Yes, they do.
The thing about Miles is that he's averagely hung, his bio says that he's sporting six inches. But there's something to be said about chowing down on a not-so-big cock. You know what they say -- more than a mouthful is a waste. There's something deliciously fun about easily taking a man's whole dick in your mouth. I can swallow a big one, but they're just so much work, and seriously, I don't see Rocco Steele getting many deep throat blowjobs. Owen Powers came close in this scene, but he's the exception, not the rule.
I admit it, sometimes I just want to be a pig and wrap my lips around a gigantic pole and see what kind of damage I can do. But honestly, I just can't suck a humongous cock the way I enjoy. There's no shame in admitting that I can't deep throat a Pringles can. Rocco Steele is great for porn fantasies, but guys like Miles are just fine in reality. Aren't they?