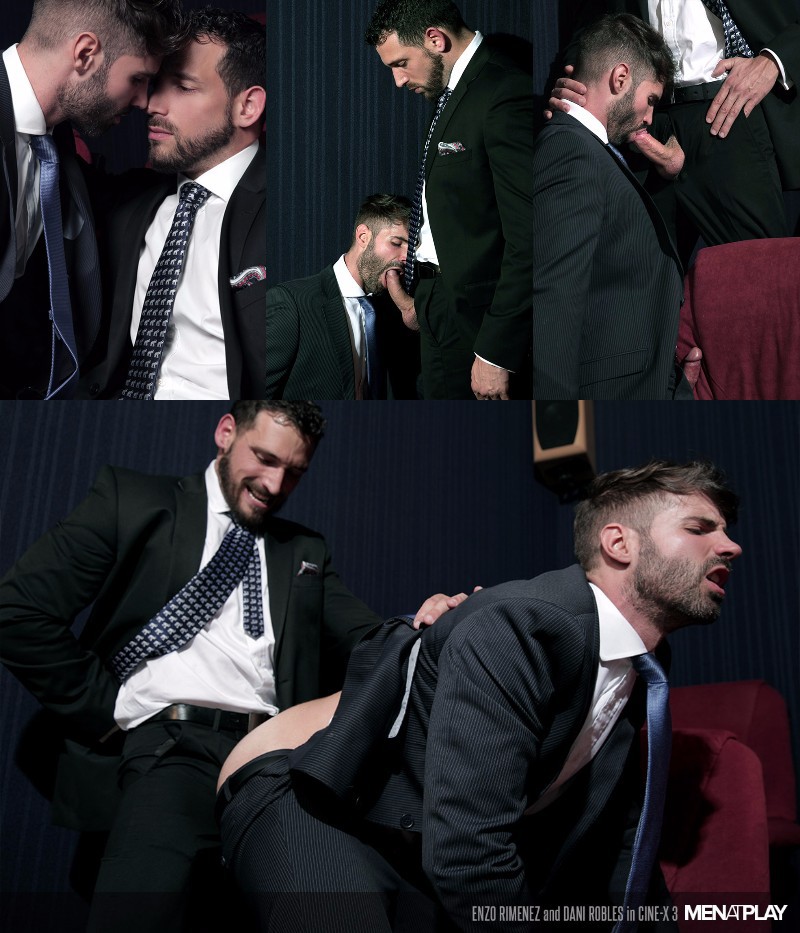 Watch All 3 Episodes of "CINE-X 3" at Men at Play
When Dani Robles walks into the porno theatre, Enzo Rimenez has his big curved cock pulled out of his trousers and he's stroking it. When he notices Dani watching him, he holds his boner so it's sticking up in the air, an invitation if you will. Come inside and see what Dani does next in this third episode from Men at Play's CINE-X 3.
This is the third installment from Men at Play's CINE-X 3 series and I'm reminded that I still haven't checked out the dirty cinema around the corner from where I live. I suppose I'm just not that into sex in porn theatres, although honestly, it's been over thirty years since I was in one. I'd still like to go. However, a couple of weekends ago I did go to a glory hole club that opened up in my neighbourhood. That was an interesting experience. Who knew that so many Arab men were into getting their dicks sucked by other men in dark places.
Dani Robles stands off to the side and watches Enzo Rimenez enjoying a slow stroke. When Enzo notices Dani, he gives him the nod and holds his dick still so Dani can admire it. He does. Then he the bearded stud moves in and wraps his lips around Enzo's big, curved dick. Dani sucks and nibbles on the Frenchman's nuts before bending over the seat and offering his ass. Later, Enzo sits back in one of those comfortable theatre chairs and enjoys Dani riding his hard-on.