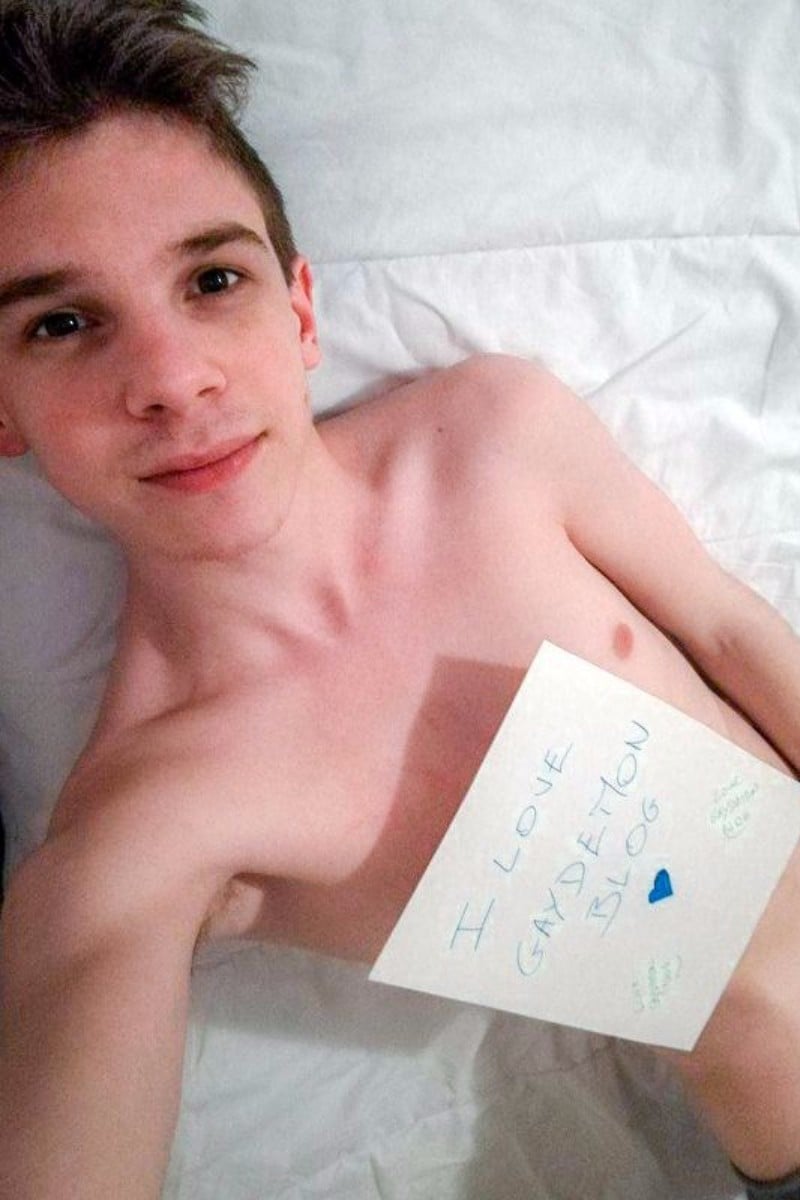 See Abel Lacourt at French Twinks
Abel Lacourt is a cute, 19-year-old guy who has been filming with French Twinks for over a year now. GayDemon caught up with Abel and asked him about some of his favorite scenes and partners. Come inside and get to know him.
You have about 20 scenes at French Twinks. Do you have a favorite scene and why?
Even though I liked all of my scenes, my favorite one is the threesome I did with Chris Loan and Baptiste Garcia for Valentine's Day. I had a very good experience with the "star couple" of French Twinks, I think it's one of the most exciting videos I did. Having sex with a real-life couple, we had a lot of fun.
You top and bottom in your scenes, but do you have a preference?
Yes, I prefer to be the bottom, I feel more comfortable in this role. When I started at French Twinks I was only a bottom, but when producer Antoine Lebel saw my cock he suggested I try to top also. My first time topping was with Chris Loan and it was a bit intimidating to fuck this muscular hunk. But that experience was amazing and now I like to be top more often.
Can you tell me which one of your scene partners kissed the best?
William Lefort is surely the one who kisses the best, he uses a lot of tongue and I like it, you can't beat a great French kisser.
Whose cock did you enjoy sucking the most?
Robin Castel's cock is really nice, long and fat, just the way I like them. I got a lot of pleasure from tasting it while sucking it like a lollipop.
Who gave you the best head?
I love more than anything blonds with blue eyes, so it would have to be one of the latest newbie's Enzo Lemercier. He just fits my type perfectly and he's also good top. #Dreamy
Which top gave you the best ass pounding?
William Lefort gave me a lot of pleasure, surprisingly this young bottom is also a good top and we both have a special feeling. Beyond sex, having a connection with the guy fucking you is something very important to me to get pleasure and feel good, plus his cock is a perfect fit for my ass.
And how about bottoms, which one did you enjoy fucking the most?
I loved to fuck Paul Delay because in real life we are good friends, sharing a lot of no-strings fun and we know what each other likes. It was also the first time ever I was doing a fist fucking scene and the experience was pretty exciting.
Can you name three guys that you'd really like to do scenes with? And you say whether you'd like to top or bottom with them.
At first I would to be bottom with Blake Mitchell from Helix Studios. Second I want to fuck Noah White (from Helix, too), and third, I can be top, bottom, or anything with Kevin Warholl from Bel Ami because he excites me a lot!
Are there a couple of things that you're itching to try in future scenes?
There's something I especially want to try, a gang bang in which I would be the only bottom for all the tops!
Anything new and interesting you'd like to tell us about French Twinks?
French Twinks is currently moving to their new studios, which is a much bigger place and I'm curious to come to see it and what crazy ideas Antoine will have for next shooting.