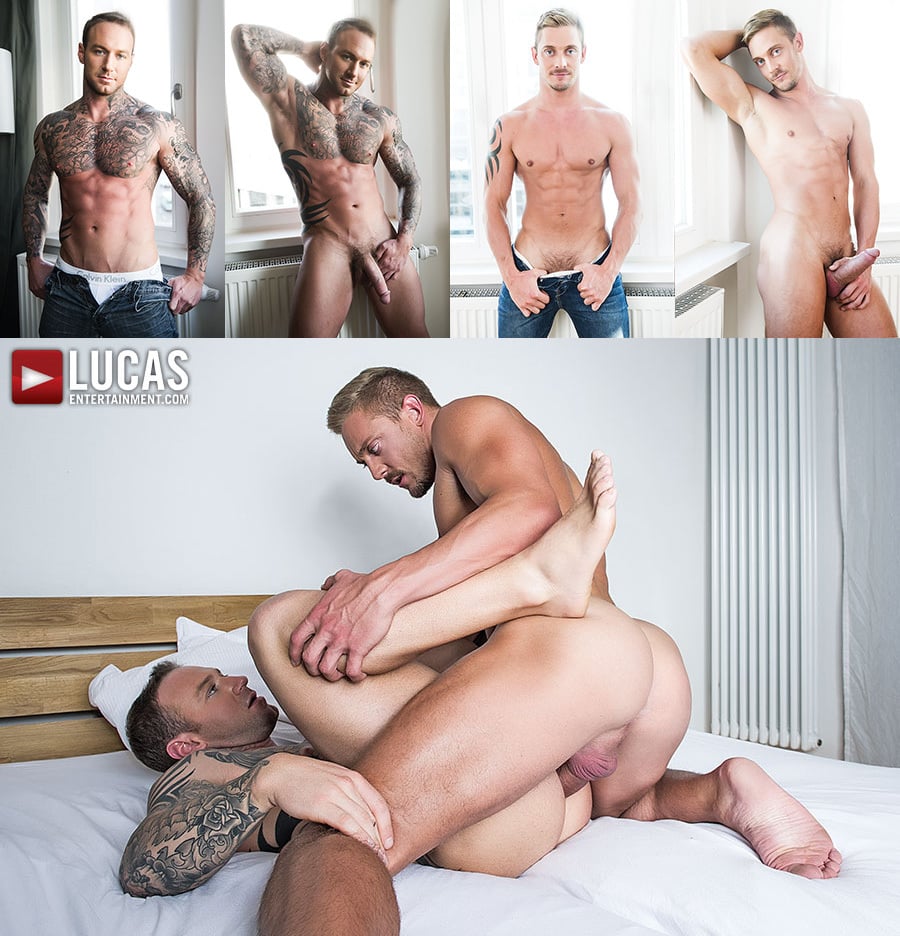 It's been a year since we last saw Aussie hunk Michael Lachlan, but he's finally brought his super fat, nine-inch cock back to Lucas Entertainment. He's flip flopping raw with a new stud named Dylan James whose body is jacked up and heavily tattooed and he's also packing nine inches, albeit a much leaner dick than Michael's. And while the guys take turns fucking each other, Lachan spends more time gripping the sheets than Dylan does.
Michael Lachlan showed up at Lucas Entertainment in December 2013 and he had the distinction of being Michael Lucas' first bareback scene partner. After that, the Aussie hunk did three more bare scenes with Seth Treston, Addison Graham, and Sebastian Rossi. And he's back in his first scene in a year and he's got two more coming in the next couple of weeks -- Swedish lovers Logan Rogue and Tomas Brand each take a crack at Lachlan's gorgeous butt in separate videos. Doesn't it figure that a stud with a massively fat cock doesn't like using it much on other guys? Don't you hate display dicks?
Michael and Dylan take turns blowing each other. Dylan gives Michael's fat meat lots of licks, he gulps on it, and even goes nearly balls deep a couple of times. Michael gives Dylan hooker head, you know, lots of hand and a little bit of mouth. Michael sits on Dylan's long dick and gyrates on it before they swap out and Dylan lets Michael's tool stretch out his hole. From there, the guys swap back and forth doggy style mostly, but like I said, Michael mostly bottoms. Dylan is a loud cummer and shoots a massive spray across Michael's ass cheeks.
See more at Lucas Entertainment