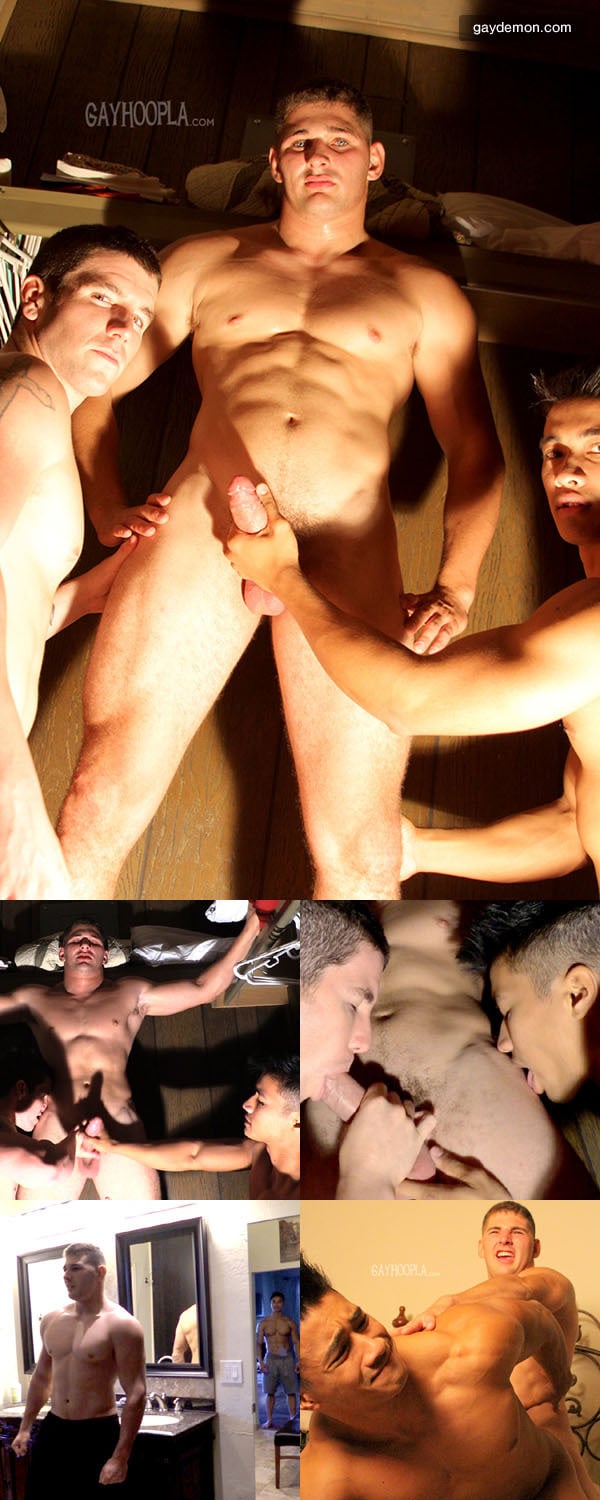 The Gay Hoopla team have been working hard on their new series - "Edge Of Desire" and in this, the third part, their resident Alpha Male, Max Summerfield, who is well-known for being a badass, straight, macho kinda guy who takes shit from no-one, is filmed caught up in a gay sexual fantasy where he is scared and running from something, and ends up finding himself inside a locked closet being sucked off by two guys!
In this part of his sexual fantasy, he is quite unsure of what is happening, but he finds himself in a pitch black closet, all alone, then he notices that his dick is rock-hard and Ken Ott and Jeff Niels are on their knees and taking turns sucking him off. Their hands are cuffed around Max's legs and they kiss each other and lick and blow his cock until it all gets too much for him and his dick erupts and his cum sprays all over Jeff's face.
Then in the second part of the sexual fantasy Max finds himself looking into a mirror, but hears a voice and can't work out who it is or where it's coming from - then Ken Ott appears, and Max is confused and says "Why do you keep reappearing in my dreams, I'll destroy you". And then, as tho he must prove his words, he annihilates Ken's butt hole with some really intense fucking before they both cum all over Ken's washboard abs.
I gotta say, the sex in these videos is something else - really well done, professional and raunchy - the Gay Hoopla team are setting a new standard in gay porn and I for one, am looking forward to seeing what happens next!