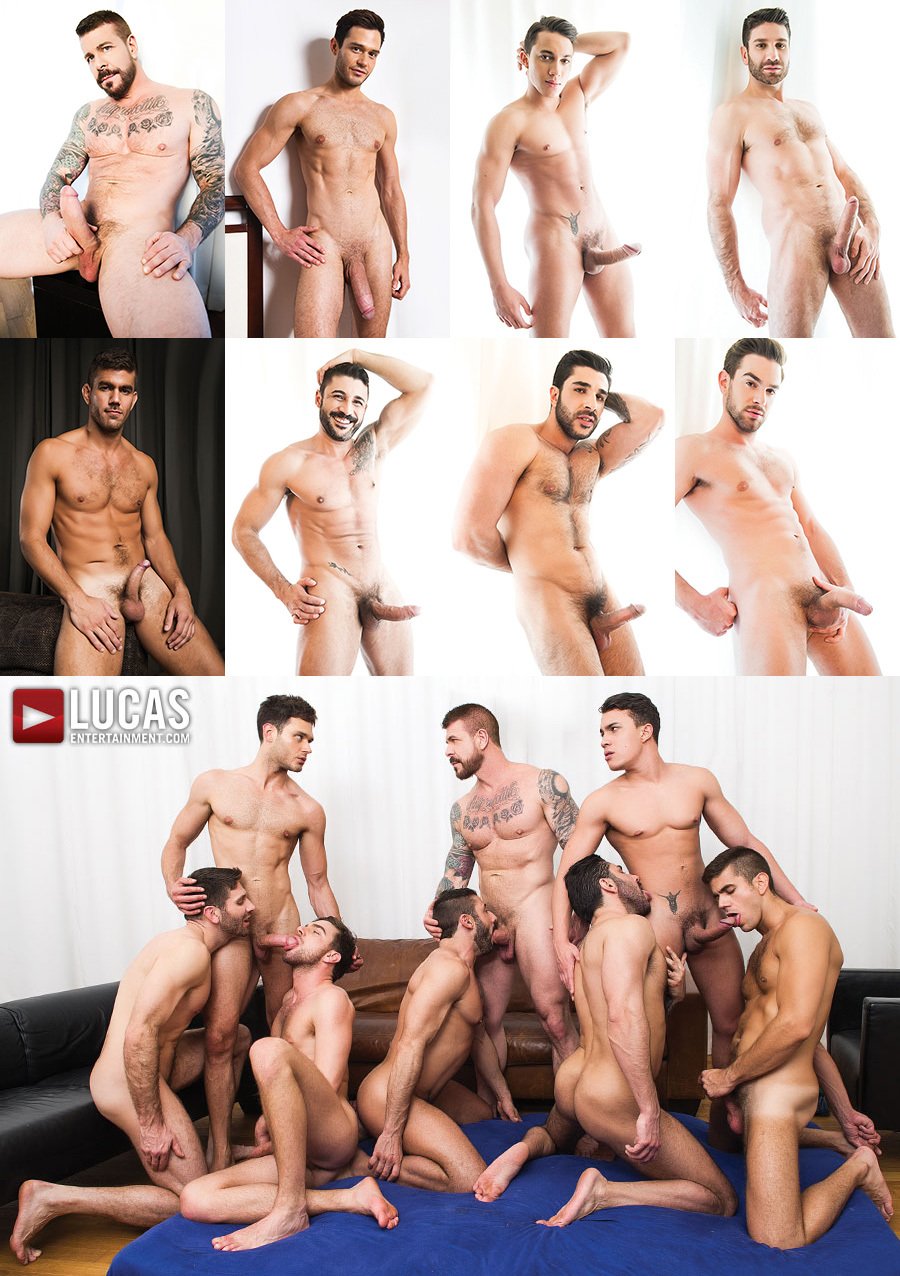 I don't know how long it's been since Max Schutler filmed porn. He might have just slipped away without making a big retirement announcement, which is probably smarter since almost all gay pornstars unretire as least once. He last filmed with Lucas Entertainment in 2010, but only did three scenes with the studio. Last week he returned to join "Rocco Steele's Breeding Party," which started off with five guys, then swelled to nine in the second part. A couple of guys left and Max Shutler joins in, bringing Leo Alexander and his foot-long dick to the party.
After 20 minutes of blowjob action, Leo Alexander, Joey Pele and Rocco Steele pick their bottoms and fuck them in the middle of the floor. Leo is putting a smile on Raul Korso's face, Joey is fucking Max Toro, and for his bareback debut, Max Schutler is the first one to take Rocco Steele's monster cock in this last part of "Rocco Steele's Breeding Party." One of the others is sitting on the sofa watching and another is feeding his dick down Toro's throat.
And Steele comes back to Schutler's ass a couple of times, but Max gets fucked by a couple of the others too. He also ends up on the floor, jacking his dick with the other men kneeling around him and urging him on. He finally covers his belly with jizz, then Rocco retires to the sofa and Leo sits on his dick with his own monster hanging heavily between his legs. What a sight! This final episode in Rocco's gang bang is almost an hour long, but the whole series is over two hours. And I have no idea how many cum loads were fired off, it'd be fun to go back and count. Let me know if any of you end up doing the count.
See more at Lucas Entertainment