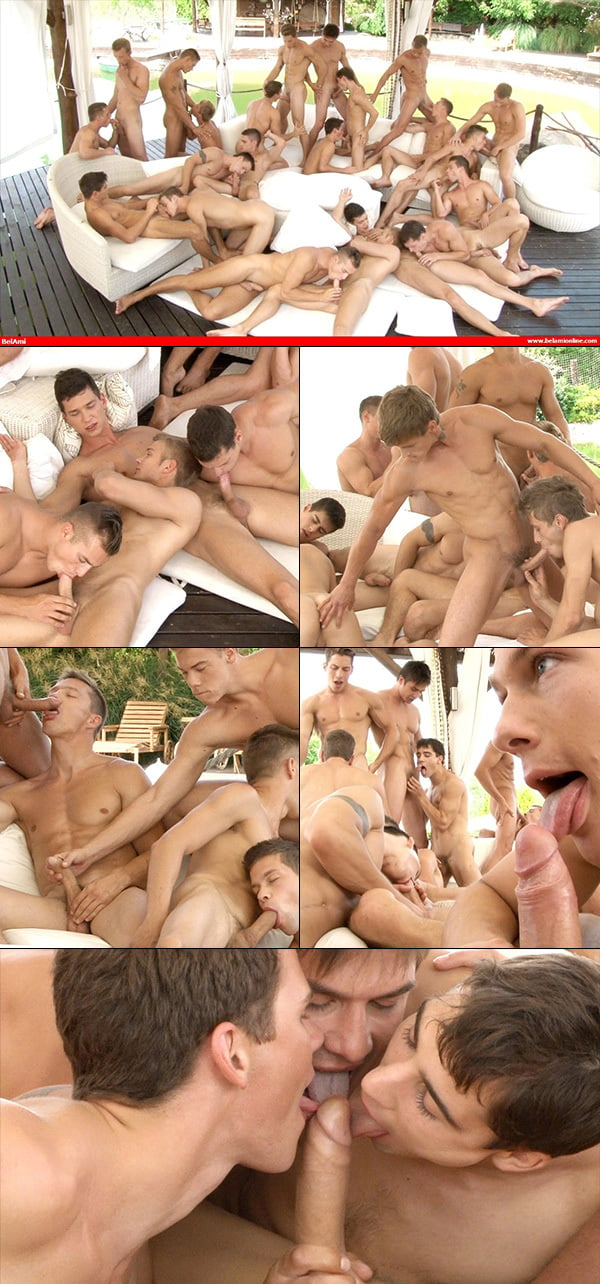 Bel Ami Online is celebrating their 20th anniversary this month and they assembled 24 of their sexiest guys in South Africa and undertook the filming of a massive orgy -- 24 horny Euro studs sucking and fucking in a bareback group sex scene. It took them six days to roll out all the footage from this series, but here it is.
Bel Ami generally films in a predictable style with guys doing oral scenes first and shooting their cum loads, then the guys get down to fucking and blast off their second loads of jizz. And this massive gang bang maintains that style. The blowjob session is an orgy of bodies lying all over the furniture with cocksuckers servicing dicks with sometimes three guys taking care of one big cock. The oral sex lasts for 23 minutes, then in the 29-minute cumshot reel, these guys start blasting off. And you can do the math, with 24 guys needing to drain their balls that almost one every minute. I'm not sure how the camera men kept up with it all.
The fucking reel gives us 22 minutes of raw ass pumping and it's hot. You're going to want to watch this scene over and over because there's just too much to take in. Then for another 25 minutes you'll be treated to another frenzy of cum flying. Tops spewing all over their bottoms' holes, cocksuckers lapping up all the jizz. This series is definitely a keeper for the spank bank and you'll be whacking off to this one a lot. Don't miss this massive orgy from Bel Ami Online.