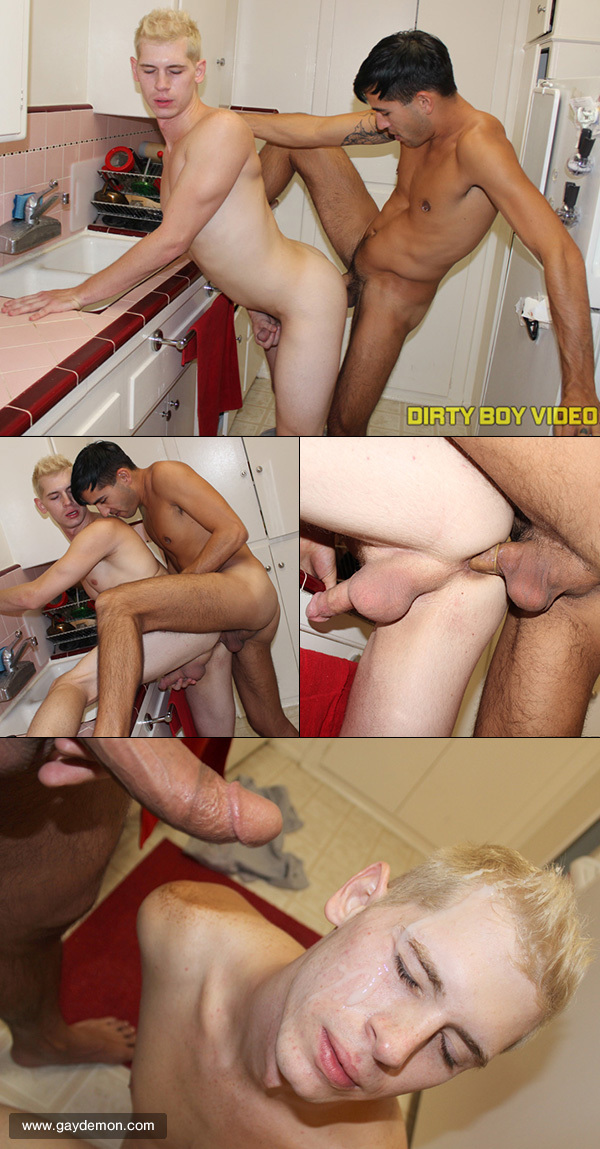 What Dirty Boy Video doesn't show us in these preview pictures is that bleach-blond Jayden takes a giant dildo up his ass before his buddy Jace bends him over the counter and fucks him. Jayden's down on all fours on the kitchen floor and Jace is pushing a huge dildo inside his ass and the blond gasps and pants -- this is definitely a challenge -- and by the sounds of things, it's the biggest thing Jayden has had up his ass.
I'm not fond of Jayden's bleach-blond hair, I never did care for that look, but I do like his body a lot, especially his thick thighs and his fleshy ass. I can see why Jace is eager to fuck it. But I giggled a bit with this scene because it seems like they got things turned around. While Jace has a big meaty cock, by the time he sticks it in his buddy's ass, the bottom's hole has been stretched out -- shouldn't they have started with Jace's dick and worked their way up to the dildo?
Maybe, maybe not. I guess let the dildo do the tough part of working open Jayden's tight hole so Jace can enjoy the fuck without fighting to keep his thick hard-on in there. Jace's cumshot is incredible. He splashes a huge load of spunk up and down Jayden's face, even blasts jizz into that pretty blond hair.