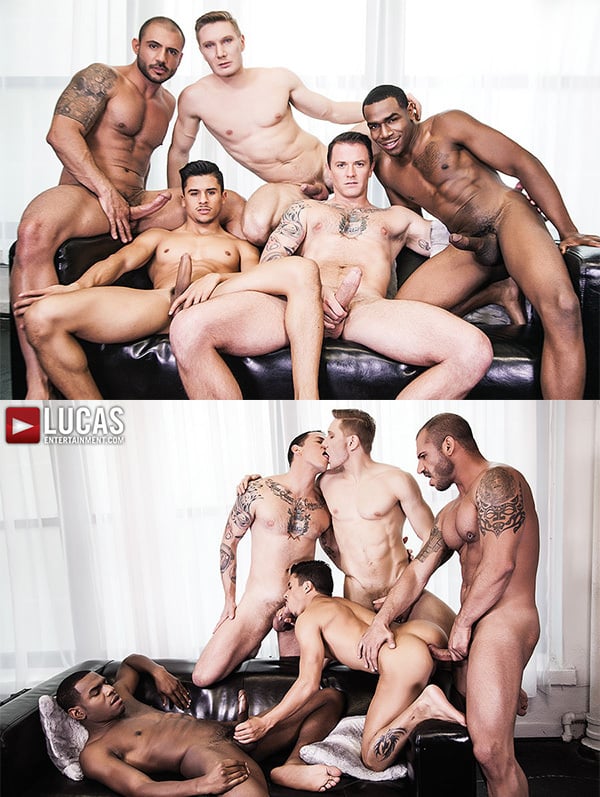 The pictures from this Lucas Entertainment scene fall under the "don't judge a book by it's cover" category. In other words, Armond Rizzo isn't the only bottom getting gang banged in this scene. When the video opens, Brazilian hunk Pedro Andreas is shoving his niner in Max Cameron's ass on the couch. As the top pumps away, Comrad Blu and Magic Wood enter and feed their dicks into Max's hungry mouth. This is Magic Wood's first scene with the studio and his monster dick not only looks impressive, but it stretches both Max's and Armond's holes out later in the scene. What a beautiful sight!
So Max Cameron's ass is the center of attention through the first part of this group scene and Armond Rizzo doesn't join him on bottom duty until about 10 minutes in. But what an entry! Max is down doggy style on the length of the sofa and Magic kneels behind him and inches his huge dick in. Armond Rizzo joins and hoists a leg up on the sofa's seat and leans his hand on the back of the couch and he spans Max's back. Comrad Blu stands behind the couch and feeds Armond's throat while Pedro fucks the bottom's cute, little butt.
Max and Armond spend the rest of the scene getting their holes filled by the three tops. And Magic Wood's dick is a real hole stretcher -- I'm going to love watching a lot more of him. I'm not going to give you a blow-by-blow account of the cum sequence because I don't want to wreck it. All I'll say is that Max Cameron is the cum piggy in this scene getting two big juicy loads, one in each end.
See more at Lucas Entertainment