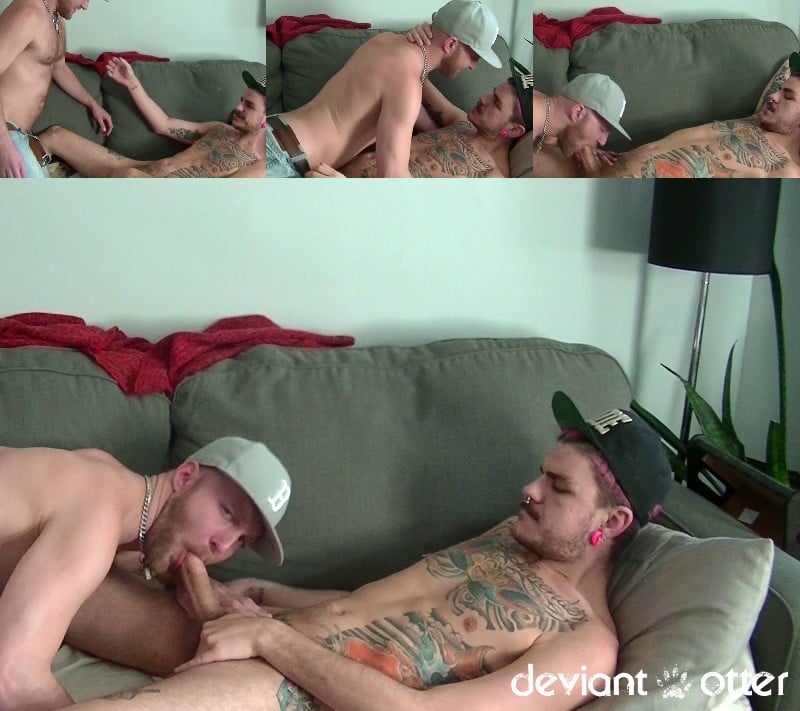 See Luke Harding's First Bareback Session with Deviant Otter
Fellow porn performer Luke Harding headed to Boston to spend the weekend with Deviant Otter and his boyfriend. DO says that they hadn't really planned to shoot anything -- please, you run a porn site, you're always looking for an opportunity to haul out your cock and turn on your camera. Nevertheless, DO and Luke did fuck on the couch, and this was the first time Luke topped Deviant Otter raw.
I don't know how I'd feel if I were Deviant Otter's boyfriend, he gets to hold the camera while DO has all the fun. But it is Devin's website after all. Luke Harding has filmed some bareback scenes for both Treasure Island Media and Raw Fuck Club, but when he and DO have fucked in the pass, Luke always wore a condom. This time around he was down for raw-dogging it and DO was extra stoked to be riding his beautiful cock au naturel.
Deviant Otter climbs onto the couch where Luke was sleeping, and they do some necking before Devin gulps down Luke's big cock. After sucking Devin's dick, Luke rolls him over and eats his ass, then he gives it a hard slap before he mounts Devin and slams his hole. "I've always thoroughly enjoyed getting pounded out by Luke because he always looks angry," Devin says. "Even if he's not, he's got such a mean face and looks borderline criminal." But Luke had a train to catch, so this was a quick fuck. Still, Devin took Luke's dick a few different ways before getting his load.