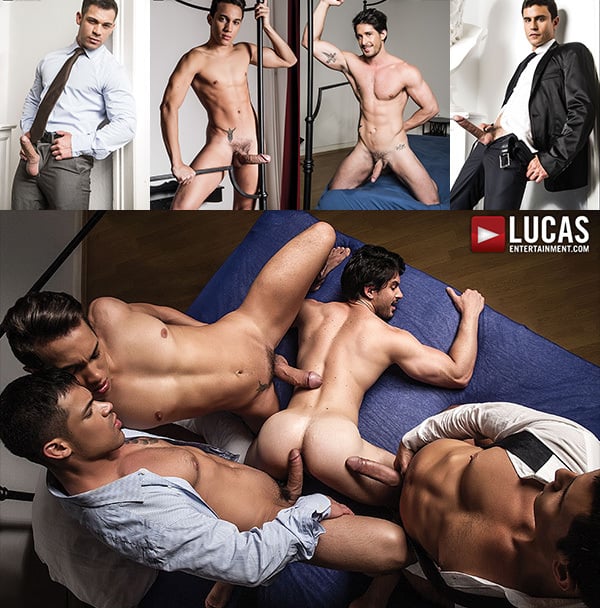 Joey Pele has just finished fucking Tomas Lopez's ass and they're cuddling on the bed. As the second part of this Lucas Entertainment gang bang opens, Fernando Torres and Rafael Carreras walk into the bedroom. They're wearing suits and circle the bed before standing on the edge and start making out. Tomas thought Joey's big-nobbed, hooked cock was a challenge, wait until he sees what's coming next.
Tomas Lopez lies on his back and hoists his legs in the air, and that's where he'll stay for the rest of the movie. Pele gets the three tops rolling and shoves his big dick in Lopez' hole. Pele fucks like a jack rabbit with quick, short strokes. Fernando moves in next with his thick cock and he's another jack hammering top. Carresras has the longest cock of all three men, but by now, Tomas' hole is well fucked and ready to receive.
When Pele is ready to cum, he pushes Tomas' legs over his head and fills up his ass bowl with creamy jizz -- and so much of it too. Fernando fucks his way to the finish line and sprays all over the bottom. Tomas cums while Rafael is fucking him and that may have been a mistake, but Rafael is nowhere near ready to blow his wad, and Tomas has to endure a long drilling session before Rafael finally unloads his nuts. But Tomas is a trooper and takes it, boy, does he take it.
See more at Lucas Entertainment