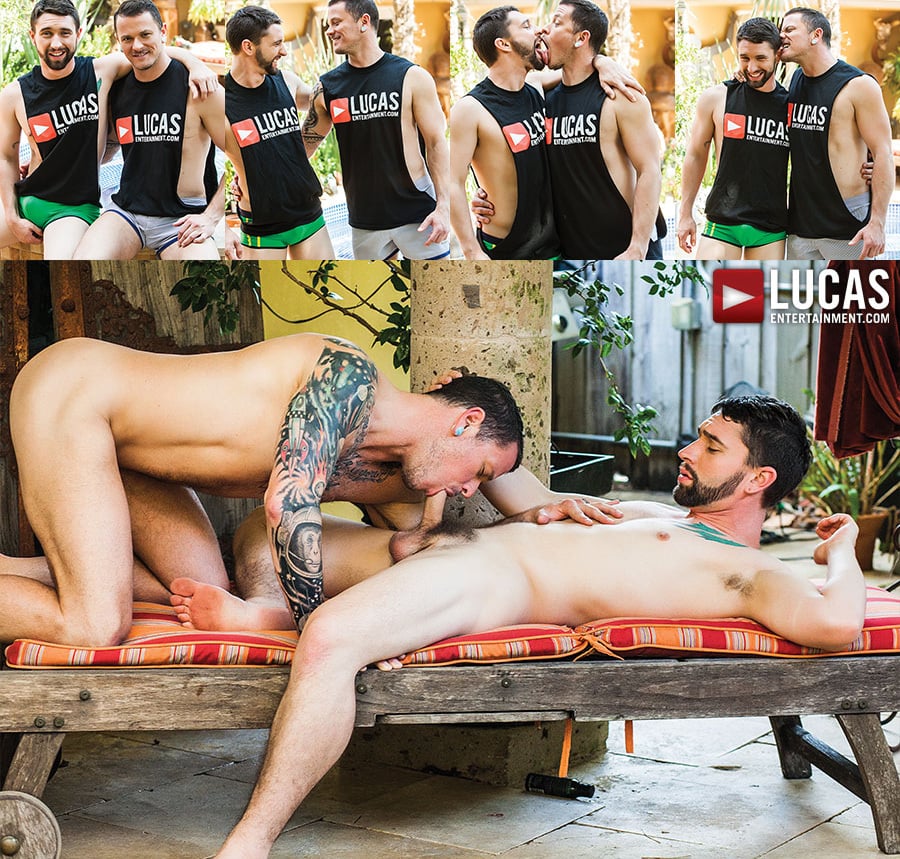 Jackson Fillmore already made his Lucas Entertainment debut at the beginning of May. You have probably seen the picture of Jackson and Jimmie Slater lying back to back with their asses in the air and Pedro Andreas fucking them with a double-headed dildo. (If not, here's my post about it.) Last week, Jackson returned to Lucas Entertainment with his real-life lover Max Cameron for a steamy flip flop fuck in the same garden.
Jackson Fillmore is still my new crush in Pornland. He's such a handsome guy. And just like that Southern preacher who promises to torch himself if gay marriage ever became a thing then didn't light the match on June 26, I'll jump off my balcony if Jackson ever shaves his beautiful beard. Equally fetching, are his wild, dark pubes and the wisps of black hair crawling up his butt, both all the more captivating against his alabaster skin.
Max and Jackson take turns screwing each other on the lounge chair in the garden. I initially thought seeing Max drilling Jackson's ass was going to be the highlight in this one, but I was wrong. Dead wrong. Jackson lies back on the lounge chair and Max straddles him, then Jackson thrusts up hard and fast with some serious topping from the bottom. But honestly, it doesn't matter who is fucking whom, this pair of lovers should sell tickets to their private bedroom shows. Good grief, they'd be very rich indeed.
See more at Lucas Entertainment