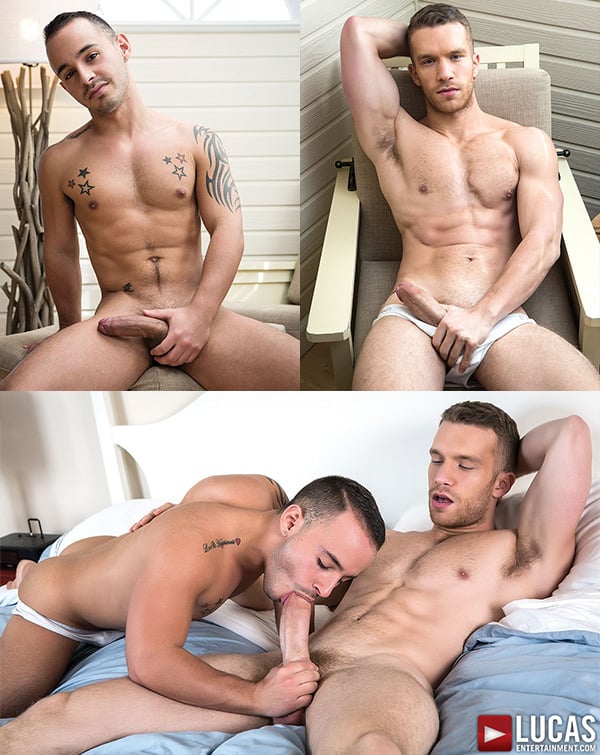 Rafael Lords is one lucky guy, his boyfriend Jake Andrews has a super fat cock. And watching Rafael stretch his mouth wide to swallow the whole thing, well, it makes my nuts tingle. But I'm getting way ahead of myself here because long before Rafael gets between his lover's legs in this Lucas Entertainment video, Rafael and Jake has a long make-out session of the bed, slowly stripping each other, kissing, sucking nipples, and nuzzling. It's a pleasure watching these two.
With Rafael between Jake's thighs, we get the first glimpse at this beautiful fat cock. I've always said that the thick ones are the best. Look at that wide cock, and seeing Rafael opening his mouth wide makes it look all the more impressive. But Rafael is a small guy, standing only 5'4" with small hands, so maybe it's an optical illusion. But later, when Jake squeezes his meat into Rafael hole, we see that it's not an optical illusion at all -- that boy is stuffed.
Rafael takes a crack a Jake's ass too. But Jake doesn't seem to like bottoming as much as Rafael does. And even though Rafael's dick isn't terribly big and certainly nowhere near as thick, Jake still grimaces. When Rafael rams his butt hard, Jake whimpers and groans. But after some more flip flopping, Jake sits on Rafael's bone one last time and lets his lover cum in his ass. Maybe he likes it more than he's letting on. Then Jake jacks himself to the finish line and squirts most of his load on his lover's chest, but he does manage to sail a couple of drops onto Rafael's chin. This is Jake's fourth video at Lucas Entertainment and it's Rafael's first.
See more at Lucas Entertainment