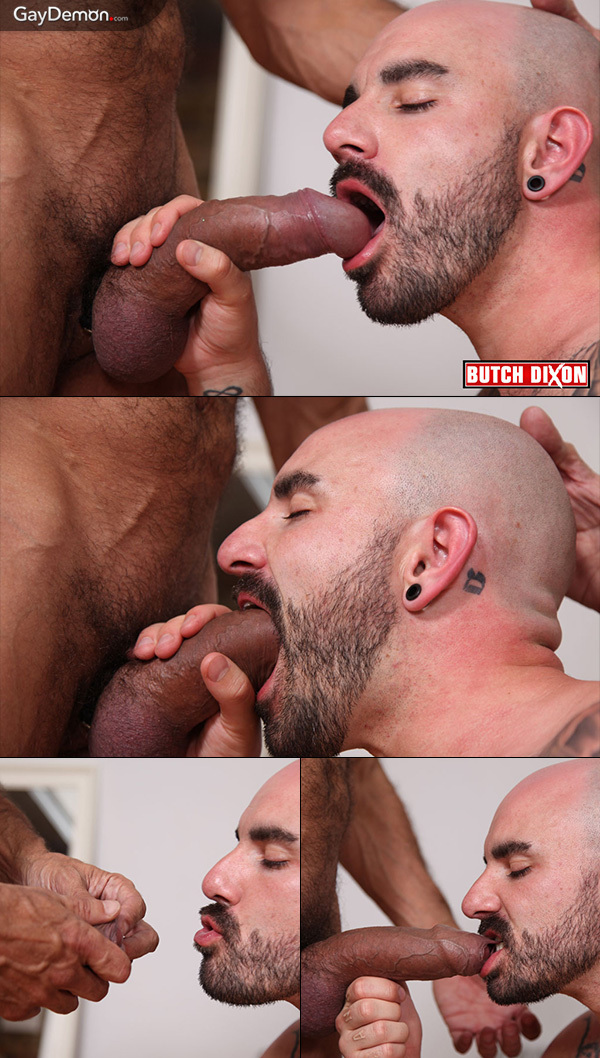 I've been waiting for this scene for about a month. Matteo Valentine has tweeted that he filmed a Butch Dixon scene with Lito Cruz and I couldn't wait to see Lito's monster cock invading Matteo's ass. Cruz is hugely hung with a 10x6 uncut dick and he's not an easy top to work with, as you'll see.
Frankly, I don't think Lito Cruz fully appreciates how much work it is to swallow a 10-inch cock down your throat or up your ass. Sometimes I wish some of these top men would get a dose of their own medicine. Matteo is down on his knees and he's doing a fine job of swallowing this gigantic dick. He licks it, sucks it, and swallows it at his own pace, then Cruz grabs the back of his head and starts fucking his throat. With his eyes watering, Matteo has to break and catch his breath, but Cruz seems to get the idea that it's "hands off my head, I know what I'm doing."
But later, when Matteo is in a doggy style position, Cruz just pops his huge dick inside the bottom's ass. Dude, you've got a 10-inch cock, maybe you could give a guy's ass a chance to open up a bit. Matteo's hole does eventually succumb to its fate, and Lito fucks him pretty hard. And Matteo is panting and grunting through the whole thing. And I really couldn't believe that he was able to endure such a long fuck before Cruz finally doused his hole with cum.