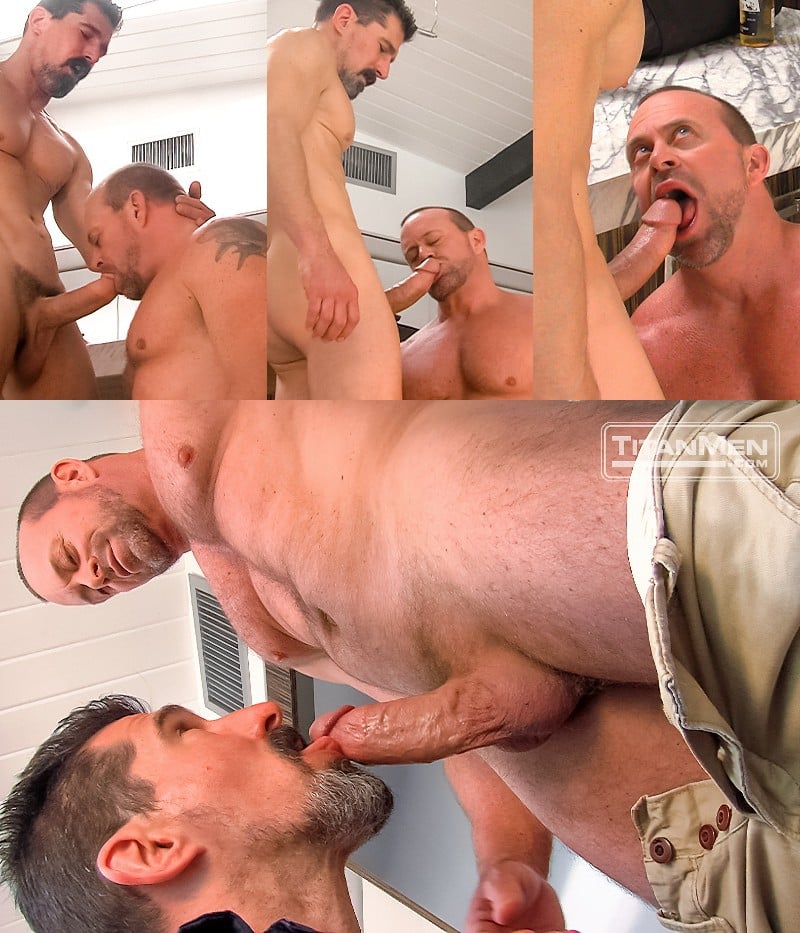 ---
Scene Pictures
In his bedroom, Luke Adams is sucking Caleb King's cock when Luke's father Casey Williams comes home. He bellows for his son, which sends Luke and Caleb scurrying for their pants. "We're in here," Luke yells, as they pull on their shorts and jump back on the bed. Casey asks if they need a ride to practice. Caleb thinks he ought to explain why he and Mr. Williams son are all sweaty, so he says, "Hey Mr. Williams, sure is hot today."
The boys head off to practice and Casey Williams heads into the kitchen where he finds workman David Anthony in his coveralls fixing one thing or another. "Sure is hot today," David says. Casey grabs a beer from the fridge and says, "That's funny, that's just what your son said." David takes the beer, but moves in and Casey unbuttons his pants and pulls out his cock. I guess they've done this before. Casey gets down on his knees and takes care of his fuck buddy's big cock, then he bends over the counter while David rims his hole.
Luke and Caleb return home (short practice, I guess) walking through the backyard. Luke stops suddenly saying, "Dude, your dad's totally eating my dad's ass." They watch their fathers through the glass door, then Luke asks, "What should we do?" Caleb grabs his crotch and says, "Watch and learn." They squat behind the brick barbecue and watch their dads fucking in the kitchen, then they pull off their shorts and sit on the ground pounding their cocks together. They can hear their dads grunting in the kitchen, and we watch David drilling Casey until he cums, and the two lads unload their nuts on their bellies, and finally, David blows his wad all over Casey. There are two more scenes come in Like Father ... Like Son and I'm sure I don't need to tell you how things are going to pan out.