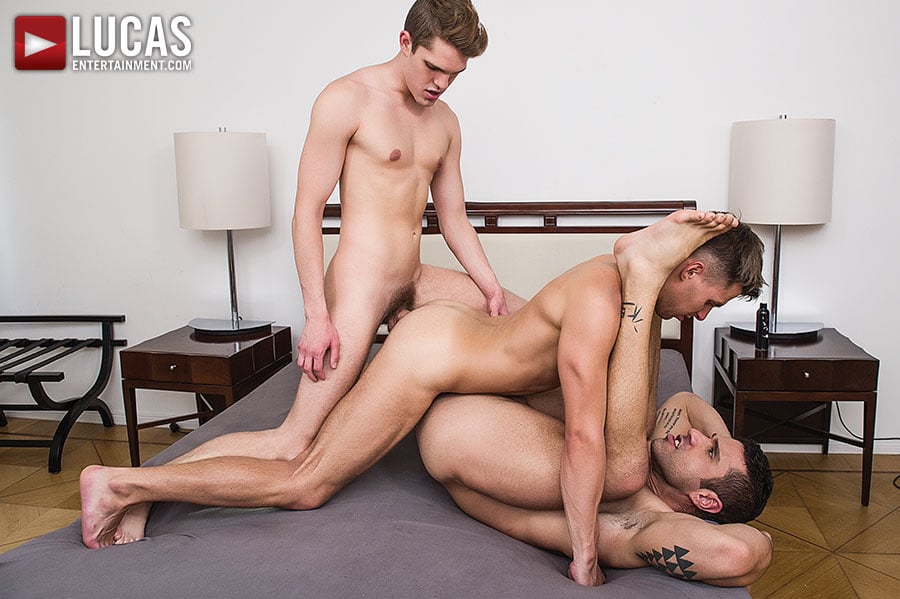 When this scene opens, Letterio Amadeo and Tristan Archer are kissing, and as the camera pans down, Dmitry Osten is sucking Letterio's cock. Then Tristan joins him and the two lick and slobber on the hunk's banana-curved bone. It's a sexy start. This is Amadeo's third scene with Lucas Entertainment and I found this trio a curious match, but in the end, it's not a match at all. Come inside and find out why.
Why is Dmitry Osten still working at Lucas Entertainment? Yes, he's sweet looking and he has a nice big cock, but the lad can't take a dick to save his life. Rocco Steele and Tomas Brand tried tag teaming the lad's ass, but Brand was too big for Osten, and after several minutes of crying, Steele gave up. I didn't see Osten second scene with Logan Rogue and Dylan James, but I figured since he's still being cast in scenes, then he must have figured things out. He hasn't. Letterio tries his best to get inside Osten's hole -- for more than two minutes he tries -- and Osten just keeps pushing him out. Doggy style isn't the best way to take a severely upward-curving cock like Letterio's and eventually they all figure this out and Letterio roles Osten over on his back.
But it doesn't really get much better, well, not until 30 minutes in when the boys start taking turns on Letterio's ass. He's the only one out of the three who can take a dick up his ass without whinging and wincing. Remember those two guys you dragged home that time and you thought it was going to be a steamy, all-night threeway, but it ended up being awkward and nothing fit the ways it's supposed to? This scene is like that. This trio spends so much time trying to get into insane positions, then repositioning, then trying something else. Ugh! If you want to see one of the hottest threeways ever, I highly recommended watching Tomas Brand and Logan Rogue sharing Draw Axtell's giant cock. Sadly, I didn't blog about that one, but check out the preview, you'll be hooked.
See more at Lucas Entertainment