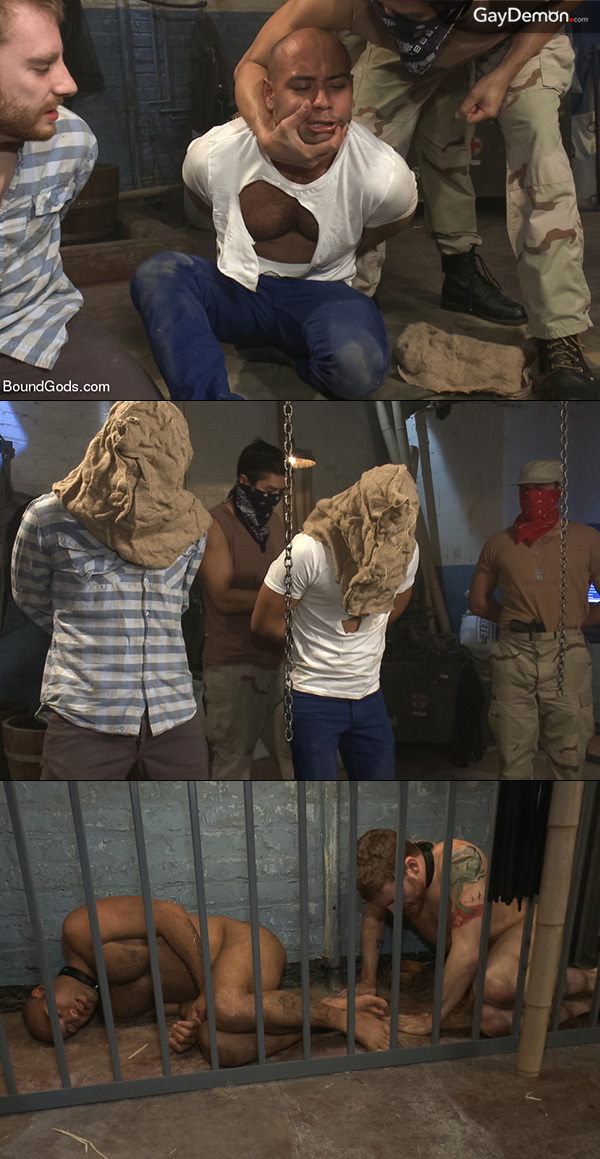 Leo Forte and Sebastian Keys are playing a couple of hikers in the 3-hour Bound Gods live show that aired in January. The live footage has finally been edited and this hot scene is now available on the site. Hikers Leo and Sebastian find themselves in Commander Morgan Black's interrogation room and the commander is in charge of dealing with all matters of espionage in the state of Kinkistan.
Leo and Sebastian were out hiking when they accidentally crossed the border from their home country of Modavia and found themselves in Kinkistan. Now they're accused of being spies and their brutal interrogation is playing out live for all the citizens to see.
Since Kinkistan doesn't subscribe to the Geneva Convention's rules on the treatment of prisoners, these two spies are tied up, given a thorough cavity search, and forced to suck dick, and that's just the beginning. With the audience filling the chat line with all the nasty things the commander and his team should do to these hikers, things get brutal with suspension bondage, forced ass fucking, and foot licking. And by the end of their 3-hour ordeal, these hikers have resigned themselves to their fate as sex slaves and beg for the commander's load of jizz.