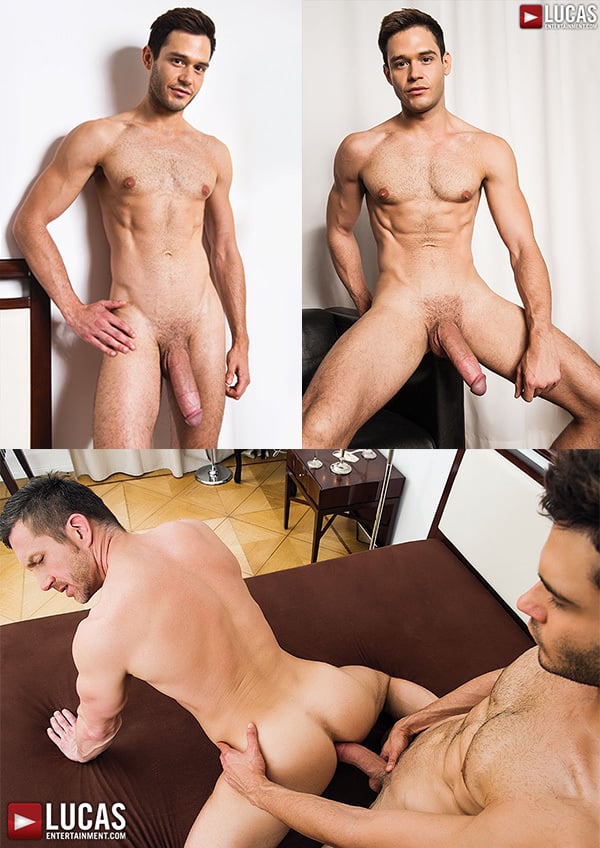 Leo Alexander is a brand new exclusive over at Lucas Entertainment. And as you can see, he's packing a mighty huge cock. What a beautiful heavy hanger. But it does look like one of those photoshopped penises we see on Tumblr blogs, doesn't it? I can say for sure that those pictures haven't been doctored because I didn't pull them right off the camera, but I have seen Leo's cock in the video and it really is that big. It's shockingly impressive. Come inside and see more of it.
Kneeling on the bed, Leo is swinging a beautiful piece of meat; it makes me squirm in my chair thinking about it. But disappointingly, I have a number of issues with Alexander's debut video. Lucas Entertainment claims that Leo's dick is 12 inches, and that's the first problem. Alexander's own Rentboy profile says that his dick is nine inches. Why lie about it? Look at the damned thing hanging down his leg, I'm impressed. Adding a couple of extra inches doesn't make me want it even more. If anything, looking at any 12-inch penis I'd probably say, "Forget it, that's too much fucking work."
The other problem I have with this scene is that after Tomas Brand takes Leo's cock up his ass -- and far too easily, I might add, further casting doubt on those 12-inch claims -- he fucks Leo as well. With a 12-inch dick debuting on your site, why on earth would you want to show anything other than a bottom struggling to take it down his throat or up his ass? I've been chastised for complaining about big-dicked bottoms, but honestly, do you really want to see Leo Alexander lying on his back with his meat flopped across his stomach? I don't. But thankfully, Leo's bottoming sequence is short, he spends most of this movie stuffing Brand's hole before juicing all over it.
See more at Lucas Entertainment