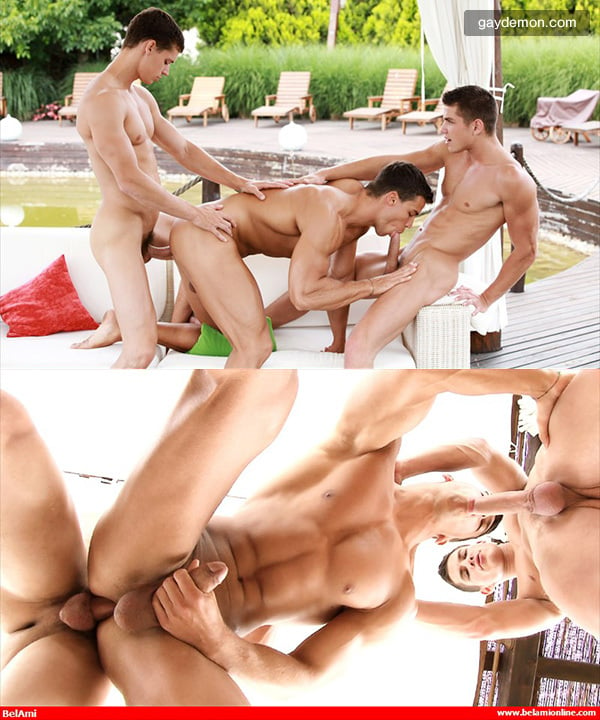 Kris Evans fans are finally getting what they've been begging for. This weekend, today in fact, Bel Ami Online is releasing Kris Evans' first bareback bottom scene. But wait, there's more! Adam Archuleta and Jean-Daniel are tag teaming Evans in a two-part threeway.
Yesterday the trio got cozy under an awning-covered deck by a backyard pond and Kris Evans lied back and enjoyed Adam and Jean-Daniel taking care of his big meat. Kris' chiseled body has never looked sexier. After slobbering all over his beefy uncut cock, the lads offered their asses and Kris took them. He fucked one, then the other. And as you can see, they blew some pretty big loads.
Today, the threeway fuck fest continues with Kris Evans playing man in the middle. Adam and Jean-Daniel take turns stuffing their bareback cocks into the stud's ass. And this is just the beginning. In October, Evans is bottoming for Kevin Warhol and then also gets fucked in a fourway, then in December Rhys Jagger gets his crack at Kris Evans' raw butt in a Christmas video.
Earlier this week, Bel Ami announced that their backlog of condom videos is coming to an end. The studio stopped using condoms in their shoots back in 2011, but they've had so many videos in the can that it's taken three years to release them all. So from here on in, or starting in the very near future, condoms will be a thing of the past at Bel Ami.