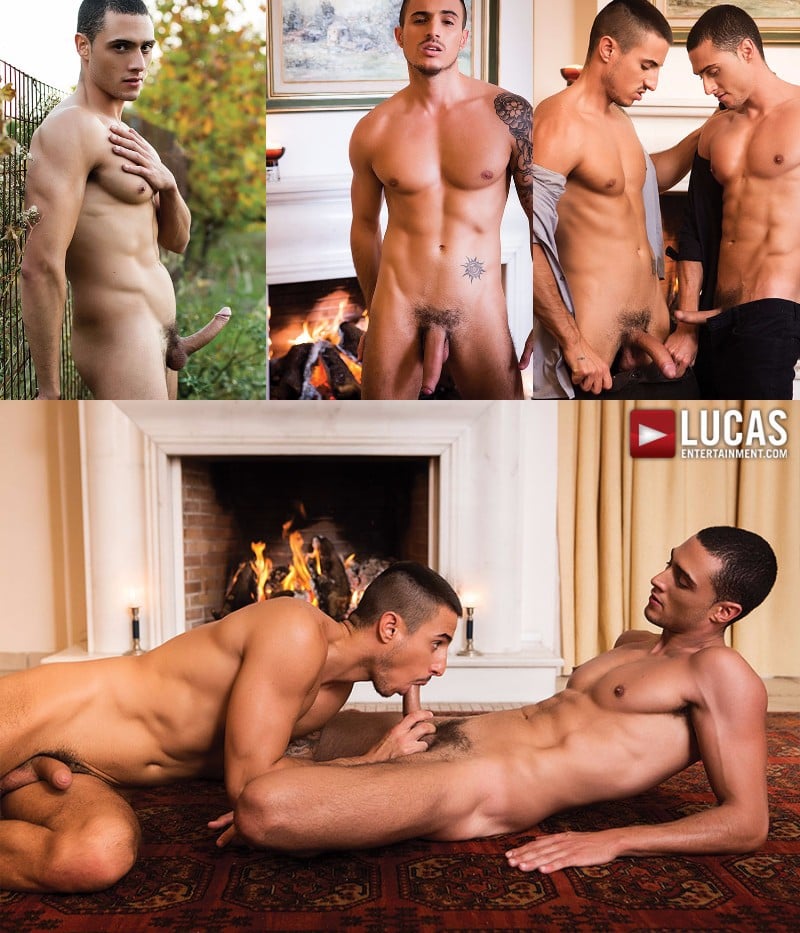 Real-life lovers Massimo Piano and Klein Kerr each made their debut at Lucas Entertainment at the end of January: Massimo flip-fucked with Swedish hunk Tomas Brand and Klein screwed the daylights out of Dylan O'Hardy. So far the couple hasn't fucked on-screen for Lucas, but I'm sure it's coming. This week, Klein Kerr shows that he can bottom too and he flip-fucks with newcomer Javi Velaro.
Javi Velaro is a Spanish top and new to Lucas Entertainment, and at nine inches, his cock is just a hair longer than Klein Kerr's, although Klein has Javi beat in the girth department. The guys start off spoon fucking on the floor, it's not a great position for a hung guy to warm up his bottom, so it takes a bit of trial and error before Javi finally slides inside Klein. But it slips back out, then back in, and after several more attempts, Javi rolls Klein onto his back and holds his legs while slowly pumping. A much better position.
After some pile driving, Klein sits on Javi's long dick, then about halfway through the 40-minute scene they swap and it's Javi's turn to get fucked. Klein jackhammers his hole with quick, short strokes. But it's Javi's cumshot that's the scene stealer. With Klein drilling him, Javi finally says in Spanish, "I'm gonna cum," and then his dick starts dribbling watery drops and finally his cock gushes and streams all over his belly. It's like watching a baker squeeze an icing bag. What a huge load! What a mess!
See more at Lucas Entertainment