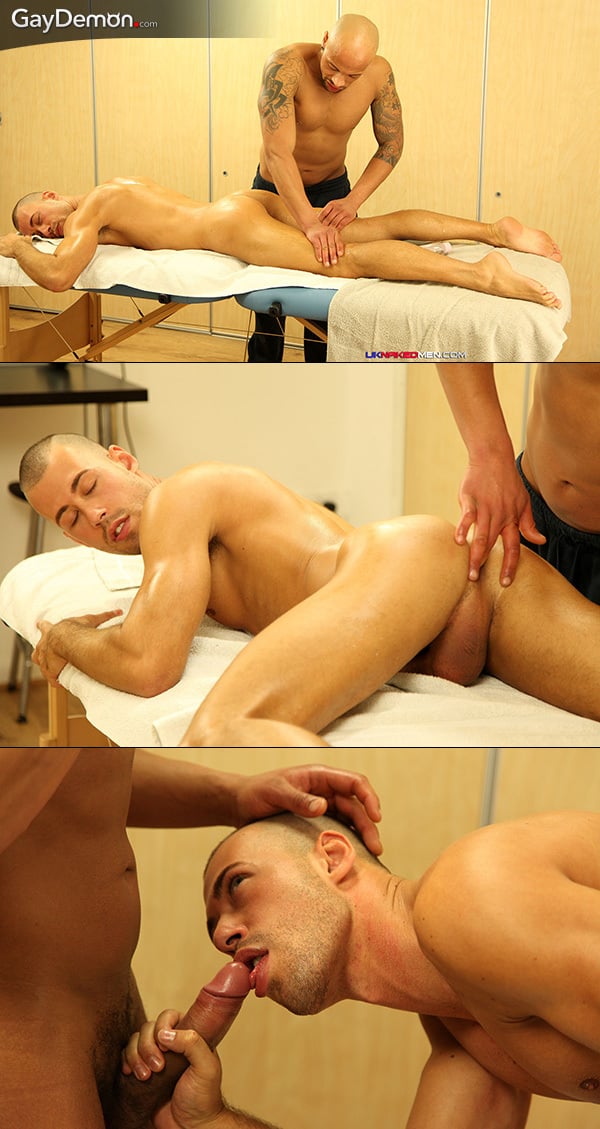 There's nothing nicer you can do for yourself that lie on a massage table and have a hot man with strong hands working over your sore and tired body. It's absolute heaven. But when your masseur is someone like bi-racial, inked stud Ken Ten, it's even hotter. You can let this sexy man rub your naked body while thoughts of doing him on the massage table tumble through your head.
But in this new scene from UK Naked Men, Brandon Jones doesn't have to imagine. After oiling up Brandon's lean and smooth body, Ken's hands work their way down to Brandon's ass and Ken's fingers slip between the beautiful buttcheeks lying before him. When Brandon doesn't protest, Ken slides his finger inside Brandon's puckered hole.
When Ken moves around to the head of the massage table, Brandon reaches up and pulls out Ken's 10 inch cock and licks it approvingly. And with that, the massage is over. Ken and Brandon takes turns sucking each others' cocks, and between the two of them, there's pretty close to 20 inches of dick here. And Ken Ten stuffs his monster dick deep inside Brandon Jones' ass for some hard drilling.