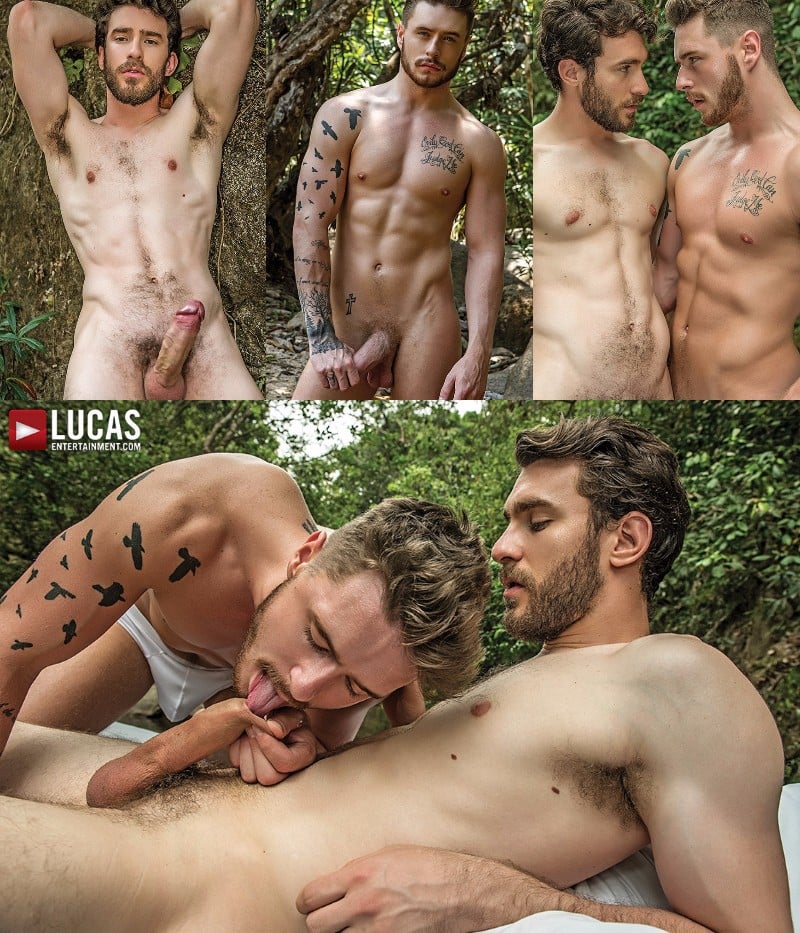 Watch "Foreskin Fanatics" at Lucas Entertainment
Philip Zyos gives Josh Rider the fuck of his life in this outdoor scene from Lucas Entertainment's new DVD called Foreskin Fanatics. While hiking along the stream, Josh spots Philip sitting on a log sketching. They smile and Josh wades into the river and joins Philip on the other side. Come inside and see where this is going.
Philip asks if he can sketch Josh and the stud agrees. When Josh wants a break, he joins Philip back on the log and the two kiss. Josh leads Philip by the hand and they head deeper downstream to a clearing where someone has thoughtful constructed a platform in the middle of the creek and even laid a mattress across it. The hunks lie down and Josh shows Philip that he has some skills of his own and swallows the hunk's big uncut cock.
And if you like foreskin play, you'll love this scene because the guys suck and nibble each other's hoods, they even tug and pull their skins. And with each of them sporting around nine inches, this is a very horny show. Then Philip fucks the hell out of Josh on this rickety platform. Honestly, the whole scaffold was shaking so vigorously that I though Philip was going to fuck them right into the river. But it held until these two blow their cum wads. Philip douses Josh's hole while the bottom spews all over his own belly.
See more at Lucas Entertainment