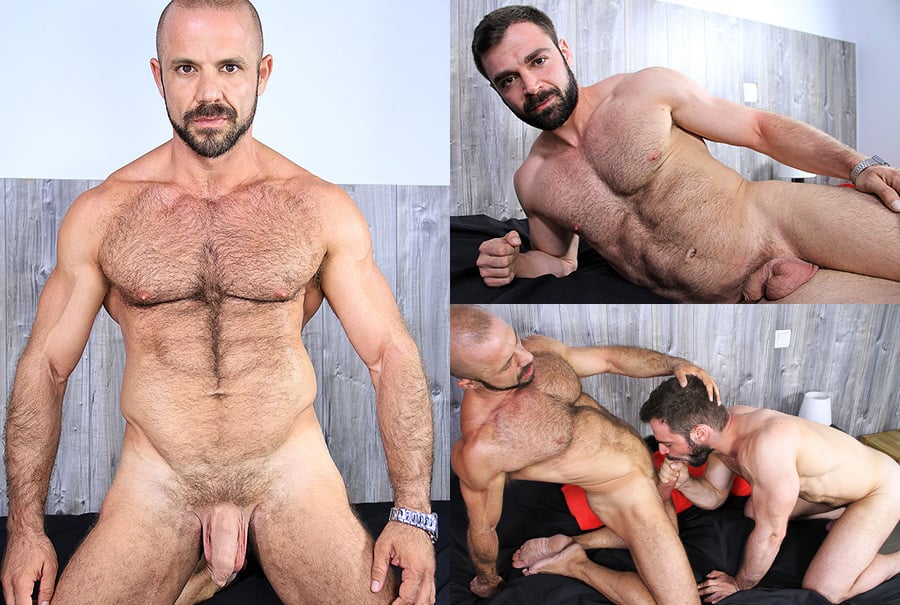 I'm not sure if Jose Quevedo and Felipe Ferro are real-life lovers or not, this is the second time I've seen them together in a scene. This week, this horny pair is on Butch Dixon and there's no story here, just two handsome, masculine men sticking their dicks in each other.
This first time I saw this coupling was in Men at Play's Lawless where Jose Quevedo was lurking around some storage containers and Felipe Ferro caught him, chased him down, and fucked him. In this Butch Dixon scene, Jose and Felipe are making out on a bed. They love kissing and do a lot of it, then get down to swapping head. And one is just as skilled as the other and I enjoyed watching them show off their deep-throating skills. Both of these men turn me on. I have a thing for Spanish and Italian hunks to begin with, and I love bald men, beards, hairy chests, and uncut cocks.
After blowing each other, they take turns fucking. I prefer watching Quevedo top, I'm not sure why, I just do. The fucking is hot to watch, but one thing that gets me extra cranked up is their fuck noises. English-speaking men generally oh and ah, but I've noticed that Spanish men making a different sound, either wah or oo wah or woo wah. I don't know why these noises get my balls tightening, they just do. When they're finished pounding each other, they blow their wads all over Jose's hairy belly.