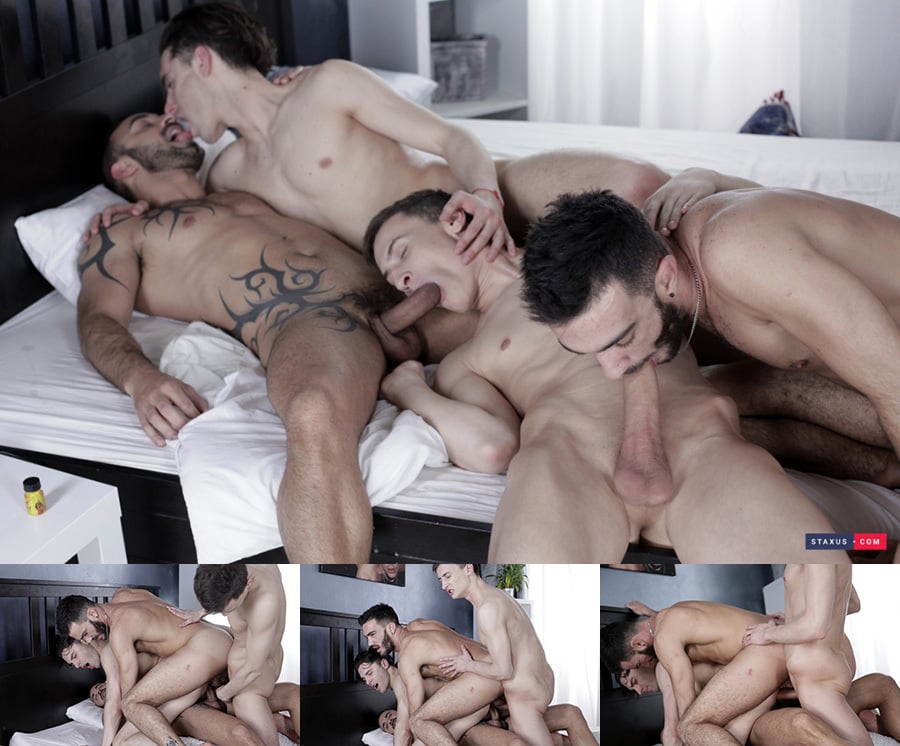 Nobody has more double penetration scenes than Staxus. It's their thing. In fact, they have 55 of them and this is one of their latest, but it's not their newest -- four days after Use Me! with Johny Cruz hit the site, blond newcomer Ariel Glutton was seeing if he could handle two cocks at the same time in Shoot This. It turns out that he lives up to his name. But back to Johny Cruz who orders a pizza just before his threeway gets underway, the trio isn't hungry, they're looking for an extra serving of pepperoni to spice up this threesome.
Johny Cruz orders the pizza, then Alejandro Alvarez and Xavi Duran join him in bed for a romp. Alejandro and Xavi are two very nontraditional Staxus guys. Alejandro is Portuguese and Xavi is Spanish and they're both sporting beards. They definitely stand out in the crowd of smooth and clean-shaven 20-somethings that we're used to seeing on the site. I don't mind, I like the variety. The three guys get tangled up in all kinds of configurations and my favourite has Alejandro and Johny 69ing with Johny on top of getting his ass plunge fucked by Xavi.
Alejandro stays on the bottom and Johny sits on his cock, then Xavi pushes in behind for some double penetration. They fuck like this for a while until the pizza boy (Jace Reed) arrives. The original three get back into position for some more DP, except this time Xavi in on the bottom. When Alejandro sticks his dick into Johny's already-stuff hole, then arches his ass, I figure that Jace is going to fuck Alejandro in a fourgy of train fucking. But Jace pushes his cock in between the two already in Johny's hole. I'm not going to lie and say it's hot because it actually looks painful, and not just for Johny. I would have been happy watching Alehandro and Xavi fucking Johny and Jace while they sucked each other 69-style, that would have been hot.