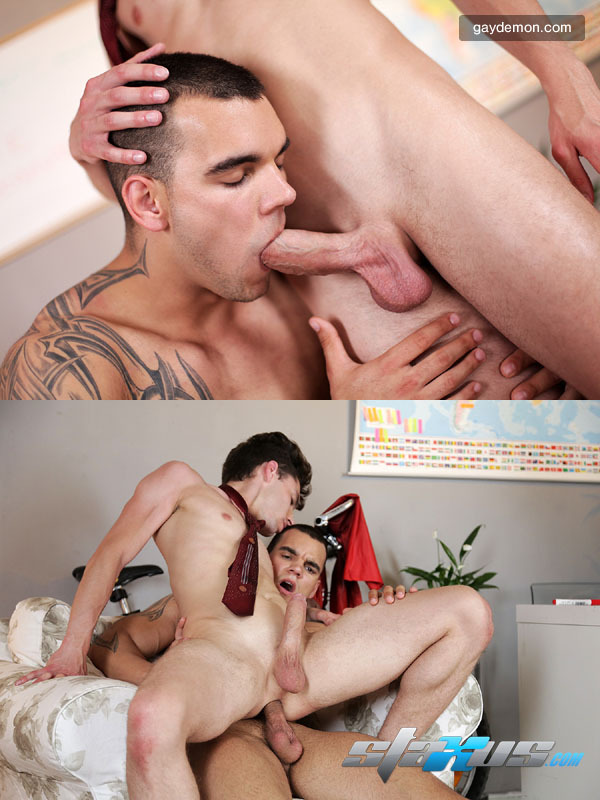 Staxus surprise us today when the twinkish Johny Cruz appears (at first) to be the dominant partner in this scene where he and the ultra-masculine and muscular Tom Cruz bareback fuck. But not is all as it seems, and the universe is not coming to an end after all, as the guys end up in a flip fuck and set things right again!
The young Johny Cruz is on the hunt for a new courier for his office and when Tom Crua walks in for an interview, the young twink is clearly in awe of this masculine hunk of man! And who could blame him - Tom is awesome - handsome, muscular, smooth, tattooed - and hung! And when he's wearing nothing but his courier underwear/singlet combo he's quite an intimidating sight - especially for the young Johny.
But Tom's outward masculinity belies his true feelings, but his raging boner does not - he's got the hots for the young Johny and his dick is eager for some action. Johny, of course, is not one to hold back, and is soon slurping down on Tom's monster. Then the tables turn and Tom chows down on Johny's thick uncut cock too, and if this were a traditional porn video you'd expect to see the twink getting plowed by the masculine top round about now. But instead, in a surprising turnabout, Johny moves down and rims Tom's hole then slides his big fat raw boner deep into the waiting hole and fucks it most energetically!
But for those masculine tops who can't cope with such things, relief is at hand, as Tom is soon getting his revenge and he's seen reaming out Johny's hole and then, in a no-nonsense, almost animalistic fashion, pushes his own cock deep in to the twink's bottom and fucks it like there's no tomorrow.
This scene might surprise us, but in no way does it disappoint - it delivers the goods in every possible way!