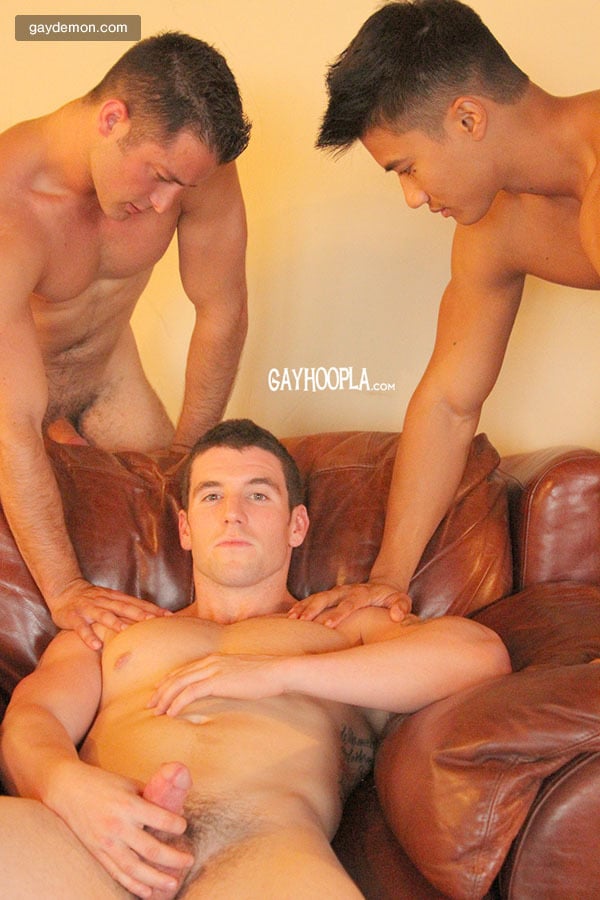 Gay Hoopla has just released the second part of their sexy new six-part series "Edge of Desire". In this two part fantasy, hottie Jeff Niels is the centre of attention and in the first part he gets blown and rimmed underwater, then he moves indoors and gets jerked off, sucked and fucked in the second horny part.
Things start off by showing six of the hunky Gay Hoopla hunky lying in a circle, all in their own fantasy world - the camera pans in on the handsome face of Jeff Niels and we hear his voice-over saying how hard his dick is and that he really needs to get off before he can wind-down enough for sleep. He closes his eyes and drifts off into a fantasy where he is skinny-dipping in a pool and his cock finds the water jet and the feeling of the strong stream of water flowing over his cock and balls gets him all hard and ready for action - then, seemingly from out of no-where - Cole Money and Max Summerfield appear on either side of him, and as tho they are mermen (they never seem to need to take a breath of air) one sucks Jeff's cock, while the other rims his hole. Then in an amazing underwater action shot, we get to see Jeff cum and his semen is floating around in the water and Cole and Max are swimming thru it - really quite an amazing sight!
Next Jeff moves indoors and, seemingly unsatisfied and still hard and horny, continues with his fantasy, but this time he is naked and jerking off in the den. Jeff is sitting a big old leather chair and Ken Ott, also naked and jerking his cock, is lying on a nearby couch watching him. Then Phillip Anadarko appears in the doorway, also naked and hard and playing with his dick. Phillip moves towards Jeff, places one hand gently on his shoulder and then moves in and starts to suck on Jeff's cock. Then we hear Jeff 's voice talking again, and he mentions how much he loved his first anal experience, and then suddenly we see him with his legs in the air, arsehole exposed, and Phillip's cock about the enter it! Phillip fucks Jeff's butt relentlessly - and Jeff totally loves it - he's finally about to reach the orgasm he's been so desperate to achieve and, just as he's about to cum, he stands up and moves over to where Ken is sitting and as the video fades into nothingness, we are left with the fleeting image of Ken's handsome face dripping with Jeff's cum load!