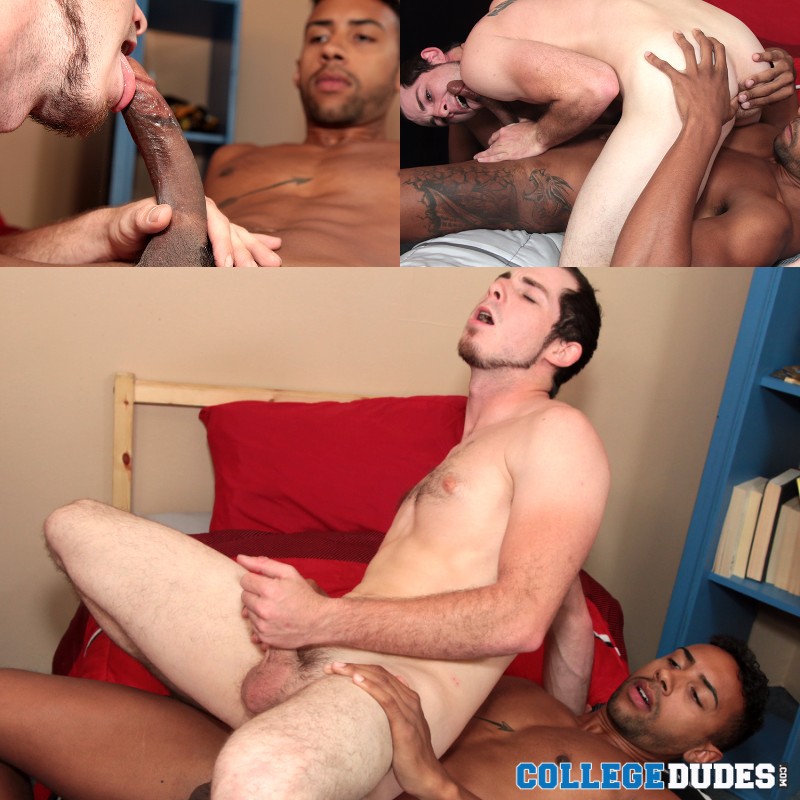 Get a Trial Membership at College Dudes - Just $1.00
Toby Springs and Jay Alexander are making out and panting hard. Jay has Toby pressed against the wall so he can't get away, but Toby is exactly where he wants to be. Well ... sort of ... he really wants to be down on all fours with Jay's big dick up his ass. I'm getting ahead of myself, come inside and see what happens.
I love differences. It's a fetish of mine. Hairy and smooth, older and younger, black and white, heavily tattooed and clean skinned ... I don't know what it is about differences that turns me on so much when they're brought together in one scene. But I do love them. And this College Dudes scene with Toby Springs and Jay Alexander gets me revving hard.
Toby is pale skinned, like we're talking this guy never takes his shirt off outside, look at that farmer tan. And Jay's brown skin is a beautiful contrast, so rich and glistening. Toby has very furry legs where Jay is more smooth, but Jay has more tattoos than Toby. Jay looks like he just hasn't shaved for a few days, but Toby's more creative with a sculpted beard. They're fucking hot together. And when Jay slides into Toby's ass, Toby says, "Oh my God, you're so big." Yum! It's so hot. Check me out, "Yum!" what the fuck is that? But it is such a yummy scene, there's no other word for it.