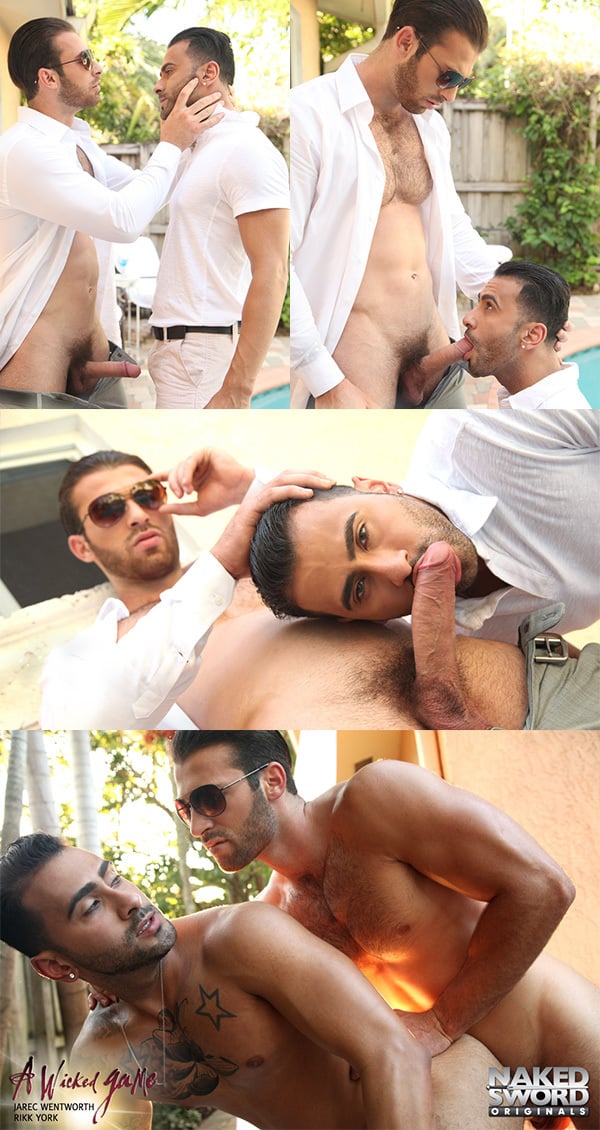 "A Wicked Game" started rolling out at Naked Sword last week and it promises to be a sexual thriller, you know, like if mr. Pam directed an episode of "CSI Miami." Is that still on? Jarec Wentworth plays a Ft. Lauderdale detective -- he's handsome, but arrogant. When the scene opens, Wentworth is rolling through the streets in his car, but he's not on his way to catch hardened criminals, he's headed home to unload his hard cock.
Cabana boy Rikk York's only job is to make sure his sexy boss is taken care of and that means a pretty blue cocktail waiting for him when he walks through the gate, and then he's at his master's leisure. Today, Wentworth says nothing, he simply pushes York to his knees. The detective must have had a frustrating day because he's taking it out on the pool boy's throat, holding his head in both hands and ramming his big dick in and out.
Then Wentworth leans Rikk against the house and fucks his furry butt. Hard. They fuck by the pool too with Rikk lying back on the concrete and Jarec standing knee deep in the pool. Jarec cums on Rikk's face, then lets the cabana boy unload on his shoulder. "Lick it up," he orders. Rikk eats his own jizz and then the detective grunts, "I'm done with you. Now go get my clothes ready."
Wentworth heads off to a crime scene where he finds Ryan Rose sitting with his head in his hands. His lover, Duncan Black, is dead on the bed. CSI's Element Eclipse, Steve Ponce, and Leo Forte are processing the scene.
All month long, Naked Sword is offering first-ever downloads of it's Naked Sword Original movies. Head over before before the end of February and beef up your video collection.