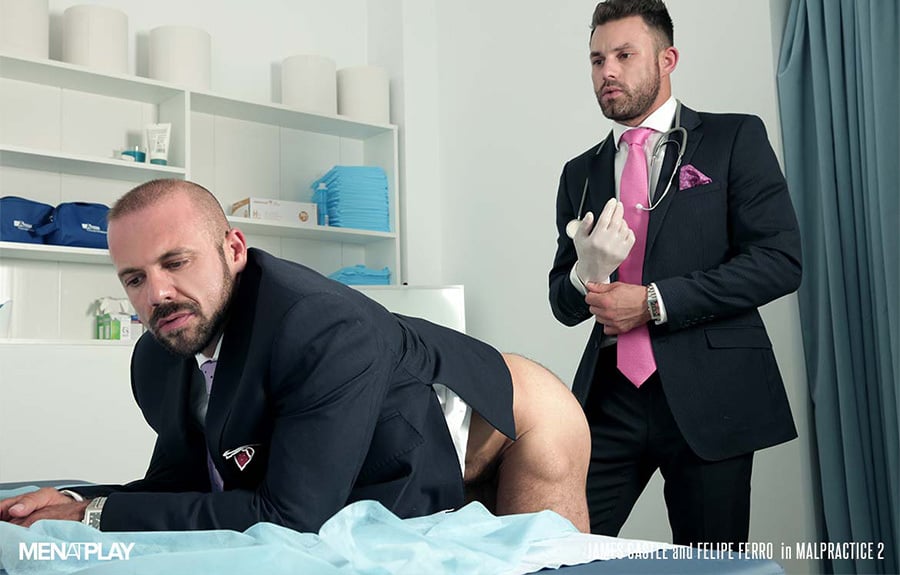 James Castle is playing dirty doctor again at Men at Play. If you've been following along, in the first episode of Malpractice, Dr. Castle turned on a hidden camera and planned on fucking fellow doctor Jose Quevedo, but Jose turned the tables on Castle and fucked him instead. Now Dr. Castle has Felipe Ferro in his office for a check up. "Do you touch your testicles regularly?" the doctor asks. He snaps on some latex gloves and tells Felipe to bend over the exam table.
Would you object if your doctor wanted to stick more than his finger up your ass? I guess if he looked like James Castle, I probably wouldn't. And could you resist his sexy British accent? I don't know about you, but I think British men could read directions on assembling a vacuum cleaner and make it sound sexy as hell, even Paddy O'Brian and his thick Cockney accent. But James Castle isn't just easy on the eyes, he's smooth on the ears, and if he told me to bend over and grab my ankles, I would indeed.
Before shoving his cock up his patient's ass, Dr. Castle tells Felipe to sit back on the table and then he takes a few deep gulps of his patient's cock. Felipe wraps his arm around the doctor's head urging him to go deeper, but the doctor doesn't need any instruction. Felipe leaves his clothes on the floor and bends over the exam table and the doctor drops his pants and pushes his meaty cock inside Felipe's ass. The doctor's bright pink tied flaps against Felipe's ass while he thrusts in and out. After a couple of rounds of fucking, Felipe squats on the floor and Dr. Castle rains cum down on his furry body.