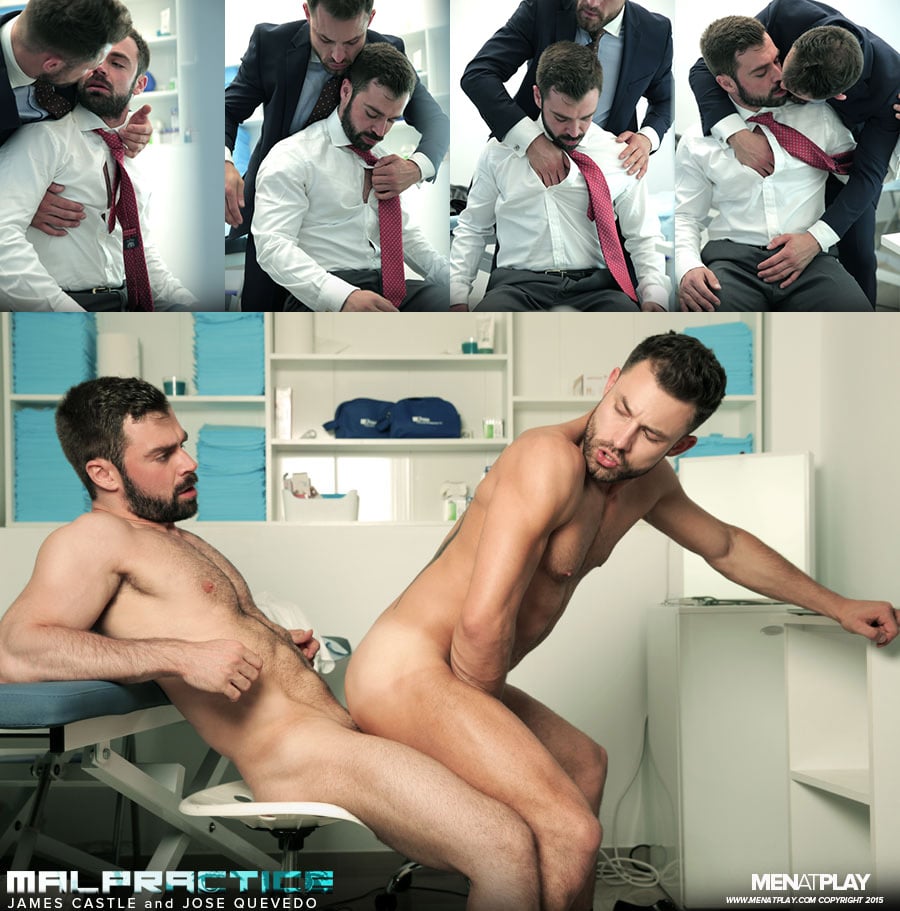 There's never a shortage of patients for Dr. Jose Quevedo to bend over his exam table, but this time in Men at Play's Malpractice, it's Dr. James Castle who is getting his hole loosened by the handsome doctor. Things start off innocently with a shoulder rub, but they turn dirty very quickly, and there's a dastardly twist.
Jose Quevedo has filmed a couple of times now with Men at Play. And every time I read his name I think of the tequila Jose Cuervo, which is exactly what I'd need to try and bed such a handsome hunk. But Dr. Castle doesn't need any liquid courage. He walks in while Dr. Quevedo is working on his laptop and rubs his shoulders and remarks how tense they are. Quevedo doesn't seem phased by his touchy doctor buddy, so I'm assuming they have screwed in his office before. But before Dr. Castle goes any further he turns on a hidden camera he's rigged up in the office. What does Castle plan to do with this seduction video? Is it for his own pleasure so that he can re-watch it later? Or his does he have some other underhanded plan?
We'll have to wait and find out in a second upcoming episode, but in the meantime, James continues with his shoulder rub, then loosens Quevedo's tie and slips his hand inside the hunk's shirt. He pulls Jose's stiffening cock out of his trousers and wraps his lips around it. Dr. Castle bends Jose over the exam table and loosens his hole with his tongue. Castle aims to fuck Quevedo, but what he doesn't know is that Jose is onto the hidden-camera affair. In an instant, he flips Castle and bends him over the exam table and gives him one of Dr. Quevedo's special injections.