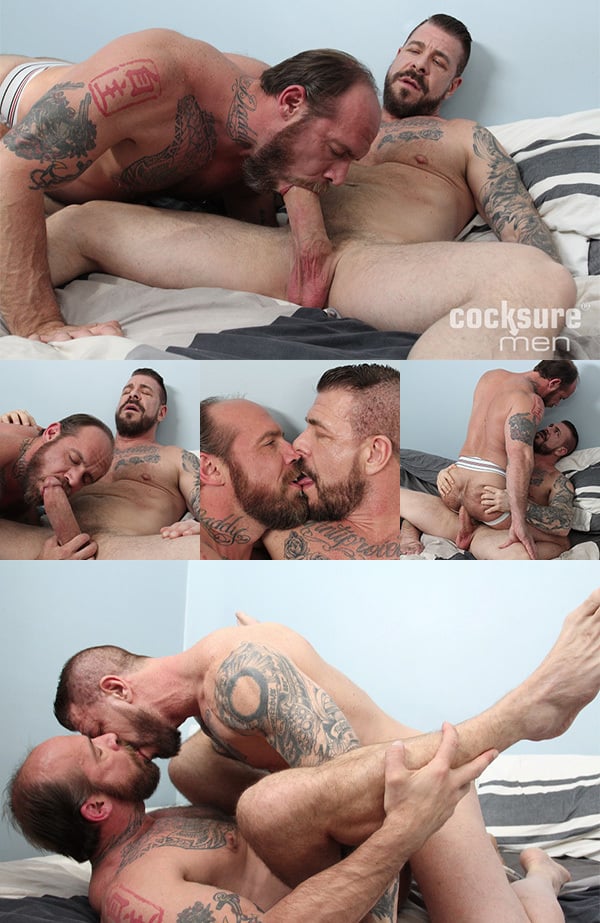 I don't know if this is a one-off or the start of a comeback, but Jake Deckard popped up in a Cocksure Men video this week and he's taking care of Rocco Steele's monster cock. And I mean, he's really taking care of it. I've watch so many guys sucking on the tip or bobbing on the top third, but Deckard almost manages to swallow most of it. Now that's how you make a comeback.
At the height of his career back, Jake Deckard worked for the biggest and best -- Titan Men and Raging Stallion. In 2006 he was a casualty of a studio shake-up that saw Titan Men trading him for Raging Stallion's Francois Sagat. In 2007, Raging Stallion named Deckard their Man of the Year. Deckard filmed for a couple more years, then petered out. In 2012, Deckard seemed to be staging a comeback and filmed two DVDs with Dragon Media. Then came word that he was really done; he was moving on to work as a fashion photographer and massage therapist in New York City.
I'm not sure what to think of this new Cocksure Men scene. A lot of porn performers try reviving their careers, but many times I wished they'd just let their former onscreen magic swim around in my memories. But Jake and Rocco have good chemistry and Jake certainly enjoys riding Rocco's massive meat. And like I said up top, he's one of the better cocksuckers I've watching servicing that thing. And Deckard certainly had no problem taking one of Steele's hard fucks. I definitely want to watch this one a couple more times. So what do you think? Are you happy to see Jake Deckard back in a video? Do you want to see more?