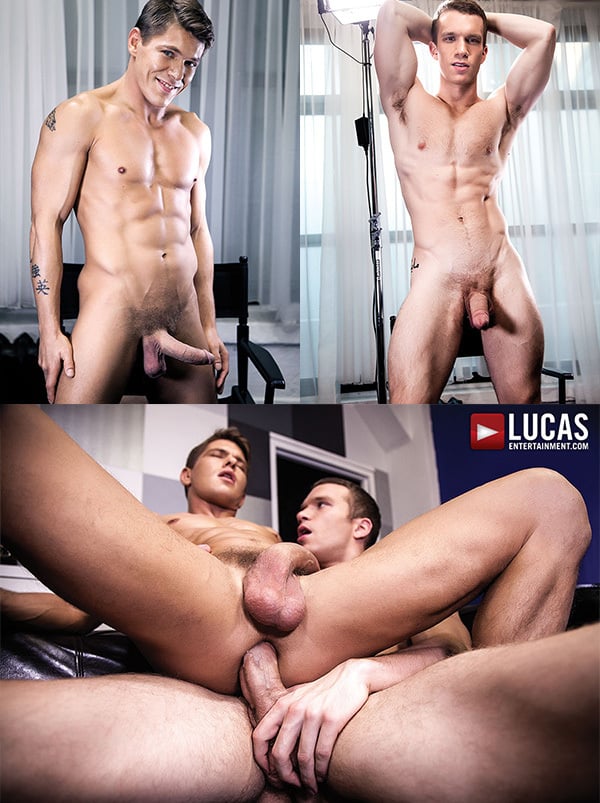 When I first saw Jack Styles' cock in the promo pics for this Lucas Entertainment scene, I thought, "Geez, why is he bottoming?" No offense to Jake Andrews, but Jack's dick looks quite impressive. It's the kind of big, meaty thing that you want to see a guy sitting on. Come inside and see why Jack Styles didn't top.
Unfortunately, no matter how much Jake sucked, Jack never produced an erection. His impressive, heavy-hanging dick just, well, hung there. So Jake turned him around and shoved two really big dildos up Jack's ass, which seemed a bit odd -- don't you want a guy's ass hugging your cock when you first get inside? Isn't that one of the best parts of fucking? Isn't it more fun feeling his ass finally giving in than sloshing around from the very beginning?
Jake does fuck Jack doggy style, then Jake sits back and Jack rides him in reverse. Jake cums inside Jack. He doesn't pull out so we can see it, but we do end up seeing jizz dribble out of Jack's hole and drip down Jake's nuts. But Jake barely made any noise. Then he continues fucking Jack in two more position changes (Jack finally gets hard) and Jake cums again, but this time he's making a lot of noise. So I'm not sure whether Jake's first cumshot was accidental and he was trying to hide it or whether the editor put things together out of sequence. It's a very weird scene. I'd recommended checking our Jake Andrews flip flopping with his real-life boyfriend Rafael Lords, it was ten times hotter.
See more at Lucas Entertainment