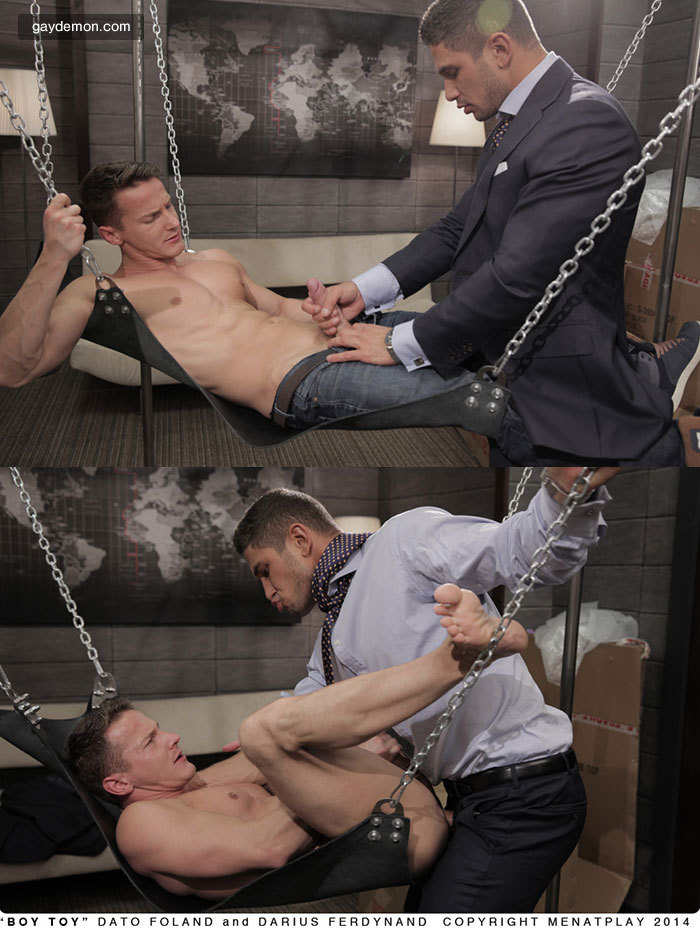 Fucking in a sling is one of the most luxurious things a couple of horny men can do. Lots of guys associate slings with BDSM play or fisting, but they're great for plain ole fucking. For the bottom, it's comfortable and the supporting chains are perfect resting places for legs; for the top, he doesn't have to hold the bottom's legs and do all the aiming and thrusting. Bottom and top can just get down to the business of fucking, and enjoy it.
There's a new executive moving into Men at Play headquarters and mover Darius Ferdynand is helping the new guy settle. However, he's delivered this large box to wrong office. Dato Foland has been expecting some new samples for a project, so he tells Darius to set them up "over there" and carries on with his phone call. When Foland finally turns around, he's shocked to see a full sling set up in his office.
"What's it for?" the mover asks. "It's called a sling and it's used for massage," Foland says. When Darius presses Dato to show him what the sling is for, the executive happily lies the blond back in the sling and fucks his ass. And while this sexy mover will be on his way after getting showered with cum, executive Dato Foland might just be keeping this sling for future demonstrations.