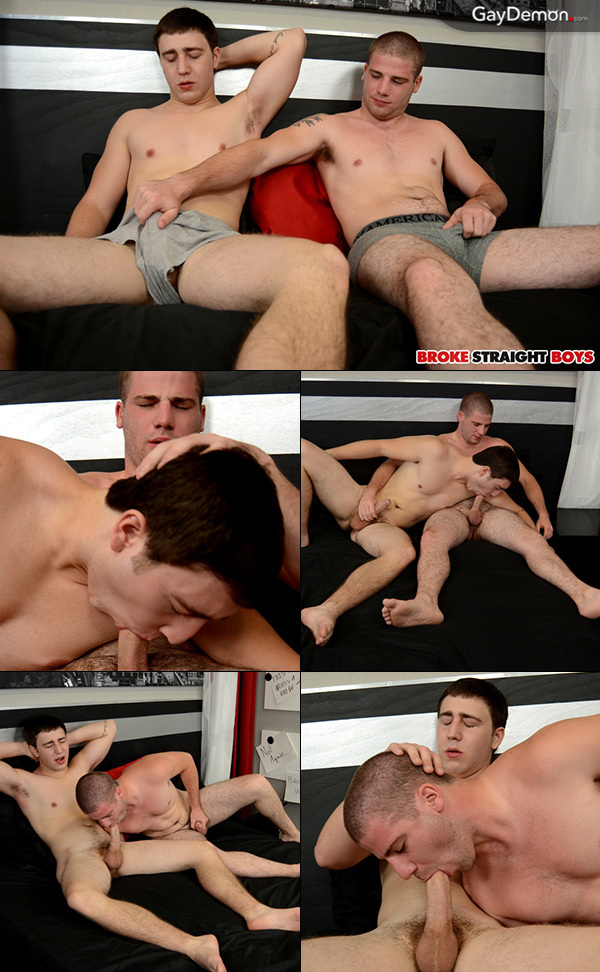 Griffin Matthews likes cars and he needs some cash for a new project he wants to start, so while he's nervous about getting boned for the first time, he's enthusiastic about the wad of cash Broke Straight Boys is going to give him. And he looks on the bright side: at least they didn't pair him up with Johnny Forza and his mega dick.
Brandon Beal is 18 years old and he's sporting a comfortable 7-inch cock, a nice size for a guy's first fuck. Brandon has already gotten his ass fucked for Broke Straight Boys so he offers: "It sucks at first. Relax, and it happens. Then you get it over with." So they get down to business, strip out of their clothes and Griffin sucks first and he gets into it, stroking his own stiffy, and even his toes are curling while he's bobbing on his buddy's cock.
After getting some oral, too, Griffin gets down on his hands and knees. Brandon inches his lubed cock inside and barely gets his cock head inside and Griffin shudders and shakes from the shock. But his hole soon loosens up and Brandon is pumping in and out balls deep. And if there's any doubt that he's liking it, look at his dick, it's rock hard. Griffin rolls over and takes more deep fucking on his back, and when he finally blows his load, he almost gives himself a facial. Brandon stands over his freshly-fucked buddy, tells him to open his mouth, and nuts down his throat. "Now swallow," he grunts, and Griffin does.
See more at Broke Straight Boys