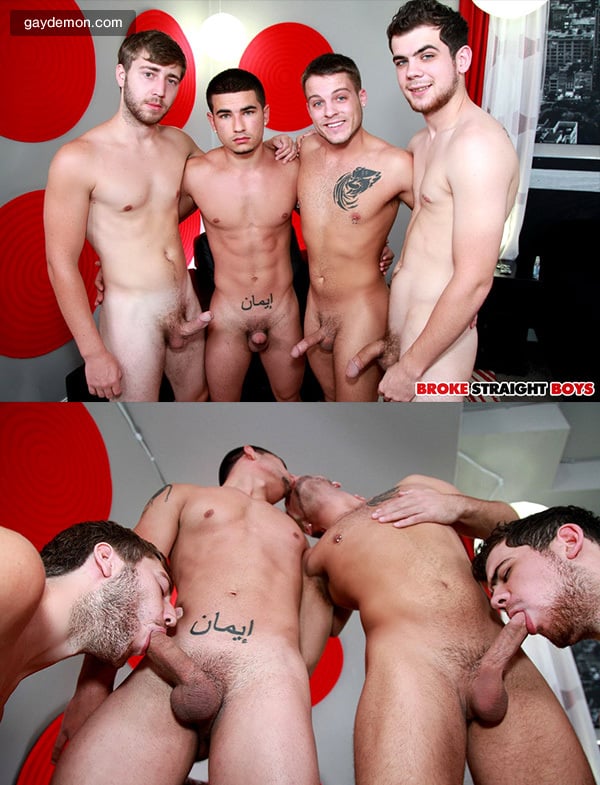 Since Vadim Black returned to Broke Straight Boys a few weeks back, he's done nothing but bottom. One has to wonder if he being punished for leaving the studio in the first place? Or is his ass just so damned cute that all the new guys are dying to plow it? I have a hunch it's the latter.
Blake Savage and Zeno Kostas are the tops in this fourway, and neither of them got to fuck Vadim Black before he left Broke Straight Boys in April. In fact, Savage and Kostas where just joining the site at the time, so they hadn't had much time to fuck anyone. But they both get a crack at Black's ass in this one. Vadim starts off sitting on Zeno's dick while Blake bends Brandon Beal over the edge of the bed.
Then the bottoms flip and doggy style it over each side of the bed, Brandon takes Zeno's dick and Blake drills Vadim's ass, and the two bottoms meet in the middle of the bed for some hot kissing. And for the finale, the three guys decide to welcome Vadim back the best way they know how. Vadim's on his back and Blake is pumping his ass -- Blake really likes Vadim's butt, he can't keep his dick out it -- and Vadim blows his wad while watching Brandon blowing Zeno.
Brandon kneels over Vadim's open mouth and Zeno is looking like he'd like unloading down Vadim's throat, but he splatters across his belly instead, then Brandon cums all over Vadim's tongue and Blake sprays his cock and balls. And it looks like Zeno Kostas requested a private session with Vadim because Broke Straight Boys just released that scene yesterday.
See more at Broke Straight Boys