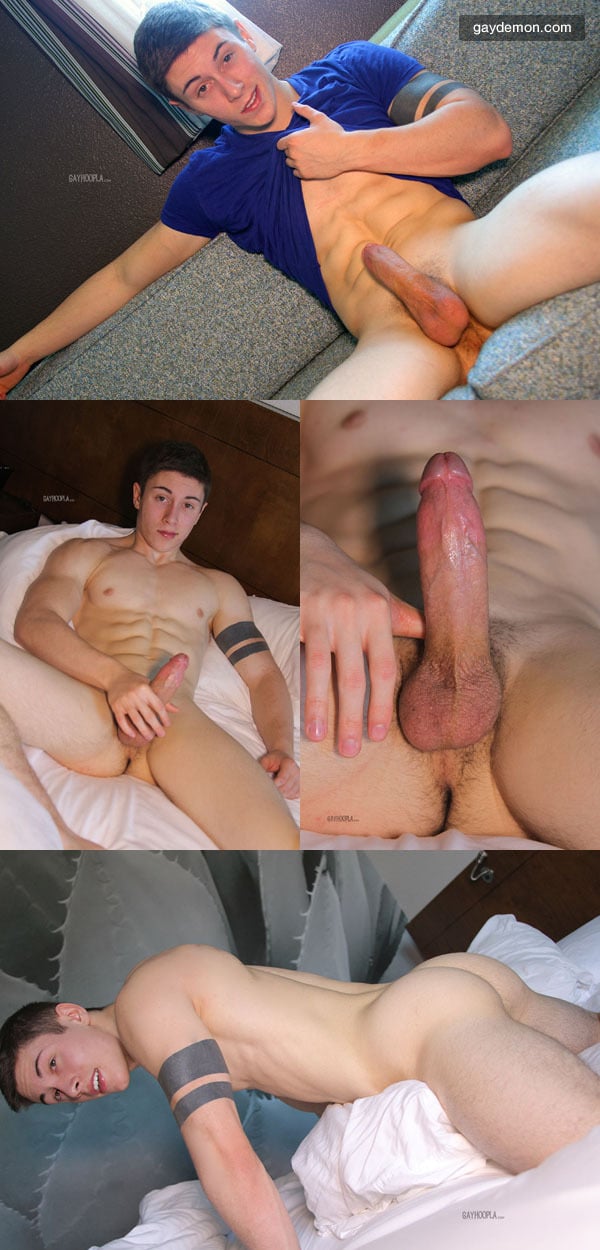 The Gay Hoopla team reckon their latest recruit Sebastian Hook, who has just recently joined their stable of hot young studs, is the epitome of what their site is all about. He's a good-looking young man, open to suggestion, eager to please, wants to be liked, willing to do what it takes to impress, and perhaps most of all, he's muscular, hung and always hard - and very, very horny. What else do we need?
Well, I decided to check him out and watched their preview video to check out their claim. He sure is a fittie - that smooth torso just accentuates his musculature; he loves the camera and it adores him in return; he looks right into the lens, eyes not wavering in the slightest, confident about his good-looks and sexy attitude - not even a bit shy or nervous about anything he says or does. He strips naked, gets his impressively large cock hard and starts fucking a pillow - that sight alone very quickly got me nice and hard, but then the camera moves in behind him for a close-up of his shaved, smooth, tight, pink little butt-hole - oh my, be still my beating heart! Yep, I really think the Gay Hoopla team are right, he really is what the site is all about - then he cums - and so do I!
And to top it all off, next week he's going to lose his anal virginity on camera, and we will be able watch that too!