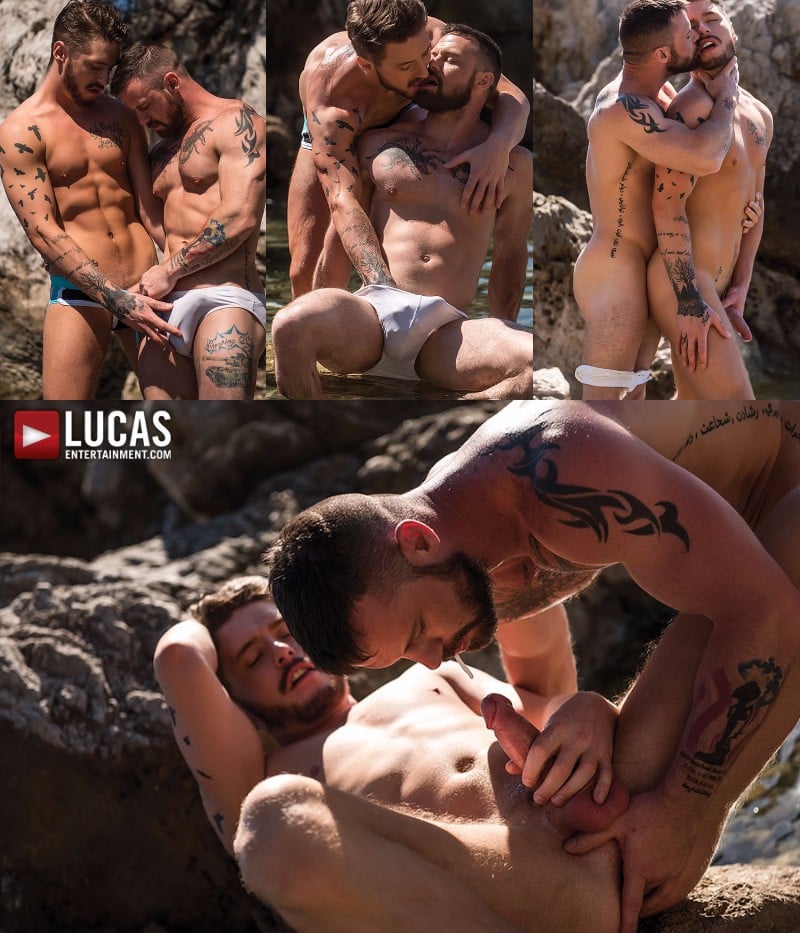 See Josh Rider in his First Video at Lucas Entertainment
Josh Rider is a sexy Brit, just 23 years old with model good looks, and he's making his debut at Lucas Entertainment. It's also an outdoor scene that begins with Rider and Sergeant Miles sitting in the water in a secluded spot among the rocks and Miles interviews him. After talking for a while, they get down to the dirty stuff.
Josh Rider has a number of tattoos, which he says don't really mean anything, he just liked them and actually designed them himself. He tells Miles that he likes masculine, bearded, American men ... hmmm, I guess that's why he was paired up with Miles. He talked a bit about his first sexual experience, which he describes as crap, saying that he was only 18 and very drunk, so it was a lot of fumbling in the dark.
But Rider has picked up a few things since then. He enjoys sucking dick and gulps Miles' big cock. Miles is knee deep in water and leaning against a rock while Josh blows him, then Miles bends him over and slides inside his beautiful ass. Miles sits on a flat rock and Josh rides him in reverse so we can enjoy his own fat uncut cock bouncing. Josh lies back on a rock and Miles sucks him off and takes Josh's load in his mouth. Miles spits Josh's cum back onto his cock, then slurps it all up and gives Josh some horny cum kisses. What a sexy debut!
See more at Lucas Entertainment