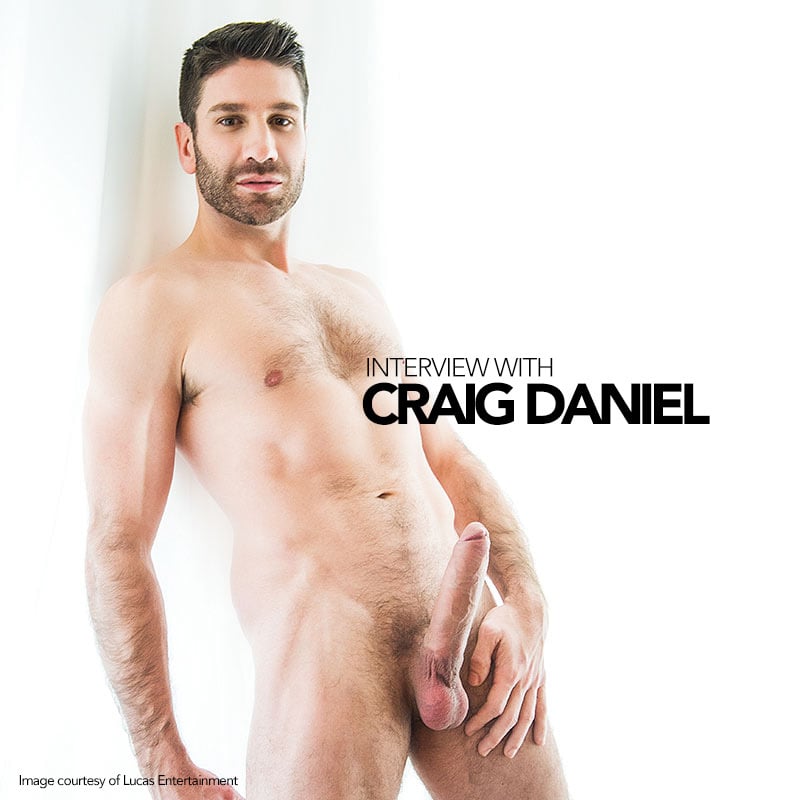 GayDemon speaks to Craig Daniel about his favorite porn, who he would love to fuck and discover that he's got brains as well as braun
You've worked for some big studios as well as a couple of smaller ones. How did you get into porn and what was the deciding factor?
Last summer I received a message via Facebook from a director of a porn company in London. We had mutual friends and he saw my profile and messaged me saying he needed someone with my physique/look for a shoot next week. I thought why not? This could be fun, so I gave it a go. He also told me to start a Twitter page, which I did, and from there other job offers started to come in.
My day job is as a medical scientist - I have a PhD in neuroscience and work on epilepsy research. Porn is my naughty side-job.
What do you enjoy most about being a pornstar?
I get to meet some really hot guys - many of whom become friends after the shoot. I also get to travel abroad quite a lot for shows and shoots.
Do you prefer to top or bottom?
I am versatile, but both in porn and in my private life I prefer to top.
Who did you enjoy working with most so far and why?
That's a tough question as I've never had a bad screen partner. Towards the start of my career I was lucky enough to have a 4-way with Dato Foland, Theo Ford and Logan Moore - all incredibly hot and sexy. I was also fortunate to be cast with Dani Robles for Men At Play, who is so good looking. Sometimes on set really strong chemistry happens and my scenes with Gaston Croupier, Johny Cruz (not released yet), Jaxon Radoc (not released yet) and Nathan Hope (not released yet) were all particularly fun to shoot. I also did a live show with Esteban del Toro - seriously if somebody wants to film us together they'll have a really HOT scene.
Is there anything challenging about being a pornstar? What is the toughest part for you?
It's a learning curve. A 20 minute scene can take anywhere from 2 to 16 hours to film. As I'm usually cast as a top you have to be able to stay horny and maintain an erection for a long time. When I first started I'd get nervous and anxious, but the more porn you do, the easier it gets. You learn to relax and to be able to switch on and off your horniness during a prolonged shoot.
What's your all-time favourite porn movie ever?
I don't remember the name, but I can vividly remember the first porn movie I ever watched. It was a Kristen Bjorn movie from about 20 years ago with sailors and army guys. It was so hot, I can still remember it now.
Where on the globe are you based? Can you tell us a bit about your life, where you're from and where you currently live?
I currently live in London (the city where I was born), but I have lived in many places around the world. Sydney, Paris, Edinburgh, Chicago etc. My day job is as a medical scientist - I have a PhD in neuroscience and work on epilepsy research. Porn is my naughty side-job. I'm not a huge gym bunny (I usually go 2-3 times a week), but stay fit by playing volleyball and rugby.
Do you have a favourite pastime? What is it?
Apart from the sports I play (volleyball and rugby), my favourite pastimes are going to the theatre and exploring new cities.
Who is the hottest man alive? Why?
It has to be either Tony Milan or Dario Beck. I love dark features and hairy chests. Somebody PLEASE put me in a scene with either of them.
What do you fancy doing next? Is there a studio you would like to work with, and a particular scene partner you'd work with?
I've been lucky enough to have already worked with quite a few studios (big and small) and at the moment I'm discussing scenes with 3 big studios who I haven't filmed with yet, so hopefully in May or June I'll be filming for them. As for future screen partners I have a long list! Tony Milan, Dario Beck, Esteban Del Toro, Allen King, Hugo Arias, Chris Harder and although I was in a large orgy with Leo Alexander; I'd love a one on one with him too.
How can fans keep up to date with what's going on?
I only use twitter, so please follow me there, @CraigDanielXXX