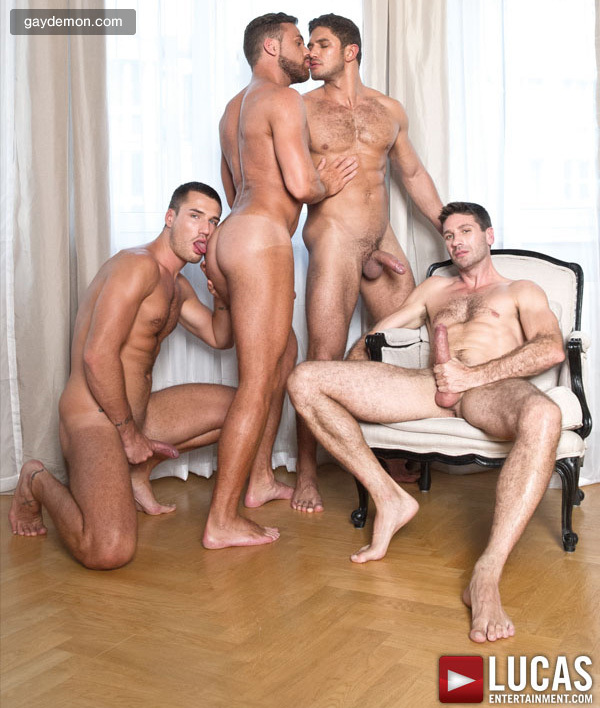 We didn't have to wait long for Dato Foland's second scene at Lucas Entertainment. A little over a week after his first bareback scene where he bottomed for Michael Lucas and Foland is back topping his way through this fourgy.
When the scene opens, Dato and Craig Daniel are necking on the bed, the bedroom door opens and Logan Moore and Theo Ford strut in. Blond and bearded Logan joins Dato and sexy Theo Ford gets his dick sucked by Craig. Dato lides a pillow under Logan's head, then shoves his long, meaty dick inside the blond's mouth. And from there, it's a confused tangle of bodies that I won't even try to translate for you, besides watching it for yourself is way sexier.
Theo and Logan are the bottoms here and Theo gets his ass fucked by Craig first. Meanwhile Dato keeps Logan's and Theo's mouths busy servicing his dick. The men come together in the middle of the bed with Dato pumping Logan's ass and Craig fucking Theo. The cum finale begins much later, as Logan gets double fucked and blows a generous wad all over Theo. This begins the last six-minute, cum-flying finish. They spunk faces and butt holes, and with each load, there's lots of jizz for hungry tongues to clean up. Now this was the Dato Foland bareback debut I was waiting for.
See more at Lucas Entertainment