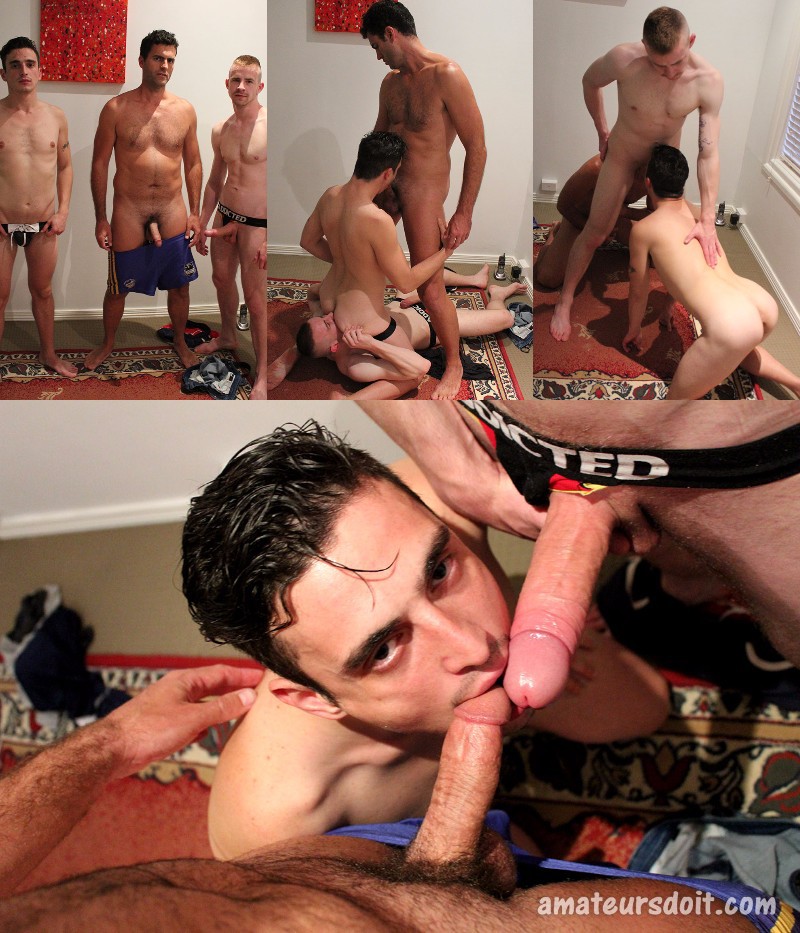 I love it when a threeway just works, you know, when everyone fits together and no one gets left out. This trio at Amateurs Do It is an international affair. Blond Dane is from Sydney, Tyson is the taller, dark-haired stud and he comes from England, and Roberto is an Italian bottom who not only services both of their cocks, but sits on them at the same time.
I really can't take my eyes off Dane, which is odd because I almost always prefer brunettes over blonds. But there's something quirky and cute about him, not to mention his nice swimmer's build, and I love how his dick thickens wide at the base. Green eyes, an eyebrow piecing, face scruff ... it's no wonder he captures my attention.
After a little introductory kissing, Roberto gets pushed to his knees, where he happily takes care of Dane and Tyson's dicks. The sucking circle on the floor is quite hot, too, although Dane seems more interested in eating Roberto's ass than sucking his cock, but he does both. But Tyson wants to feel the Aussie's cock up his butt, so he jumps on it and makes Roberto jealous. Satisfied, Tyson slides off and hooks his legs over Dane's and Roberto mounts them and sits on both of their cocks at the same time. But it turns out that Dane is the cum pig and he gets both of the guys blowing their wads on him.