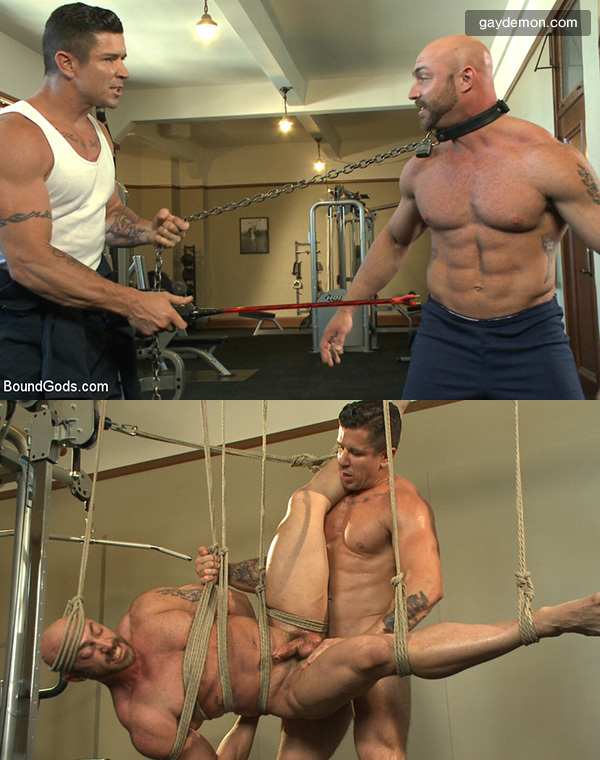 I love the Creepy Handyman series at Bound Gods. I look forward to these scenes and Trenton Ducati plays the role perfectly, he's such a nasty prick. Bondage Boot Camp Workout just aired and it features muscle hunk Tatum showing up at the gym looking for the boot camp class. Ducati pretends like he's the instructor, and before Tatum knows it, he's doing push-ups with the help of a cattle prod.
I found this scene wildly amusing because I actually just started seeing a trainer this week. Seeing Ducati giving this muscle hunk some electrical zaps or slaps as added incentive makes me smile. Perfect timing considering the pain I'm in after three sessions this week. How fast could I run the treadmill with a cattle prod poking my ass? Sure does add an interesting level to a guy's workout. And hey, my trainer is hot, so let's go.
Ducati ties Tatum to the the bench and makes him do presses, all the while Ducati is stiffening his own cock for Tatum's ass. After a few zaps on the chest and abs, Trenton rams his dick into hunk's ass. They follow up with a cardio workout and chained to the treadmill, Tatum tries running with weights chains to his nuts. And Tatum is bound with rope and strung from the ceiling for some exercises to improve his flexibility.