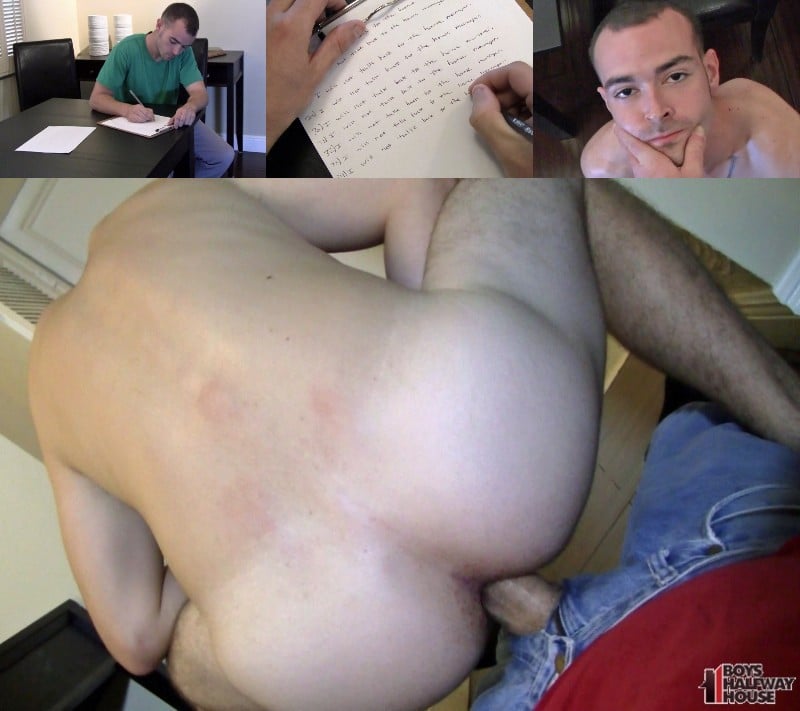 Watch the Nasty Antics at Boys Halfway House
I don't know about you, but if some halfway house supervisor told me to write out "I will not talk back to the house manager" a hundred times, I'd tell him to go fuck himself. But then that's precisely what landed Harley in trouble in the first place. Come inside and see what other punishment he was given.
Harley is new to Boys Halfway House, so he doesn't know the consequences of mouthing off, acting up, tardiness, or just about anything these hard-assed supervisors dream up. Honestly, I don't know why the residents put up with this kind of shit. I'd love to see them ganging up on the supervisors, it's 10 or 12 against two, what are they going to do? I guess there's always the threat of going back to jail to keep these bad boys in line, but wouldn't that be a fun to watch -- a gang of probies taking turns fucking the supervisors.
While Harley is doing his homework, the supervisor whips out his big cock. He's almost sorry he did because this blowjob virgin couldn't get very much of the supervisor's dick in his mouth. After all the tears, choking, and gagging, the lad is ordered to lie back on the table and the supervisor lubes up and pushes inside his pretty puckered hole. Surprisingly, Harley's hole wasn't overly tight, which made it easier on everyone. Harley blows his wad after about a minute, and I guess he thought that would bring this fuck to a close. Wrong.
See more at Boys Halfway House