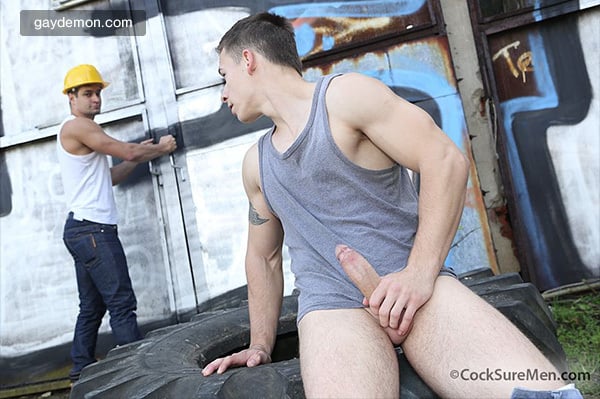 I don't know why Eastern European porn performers and studios are so schizophrenic when it comes to performer names. It seems like every site wants a guy to work under a unique name. Take Dick Keissie in this latest scene from Cocksure Men, he's best know as Dick Casey over at Staxus, where he's filmed 26 movies. And I have seen him and his scene partner Rudy Martins on other sites, both working under different names. Do they think we won't recognize them with a different name?
Oh well, aside from "The Name Game," the other thing you've got to love about Eastern Europe is that there's no shortage of tractor tires to use as props in porn. And no shortage of cute guys to sit on them jacking their thick uncut cocks. Throw down a monstrous tire in a yard outside a warehouse, and before you know it, a couple of horny guys are fucking on it. What's even funnier is that Rudy and Dick are fucking bareback on this giant piece of rubber.
Still, all kidding aside, these good-looking lads are sporting a couple of sexy, chiseled bodies. And the horny thing about Dick Keissie, or Dick Casey, is that he almost always shoots a huge watery load of cum. And this scene is no exception. After getting his cute butt fucked all over that tire, he sits up and sprays a fountain of clear juice all over his chest and belly. Then Rudy drains his nuts all over Dick's fat cock and balls. And if you like Eastern Europeans, Cocksure Men has been filming a lot of them lately.