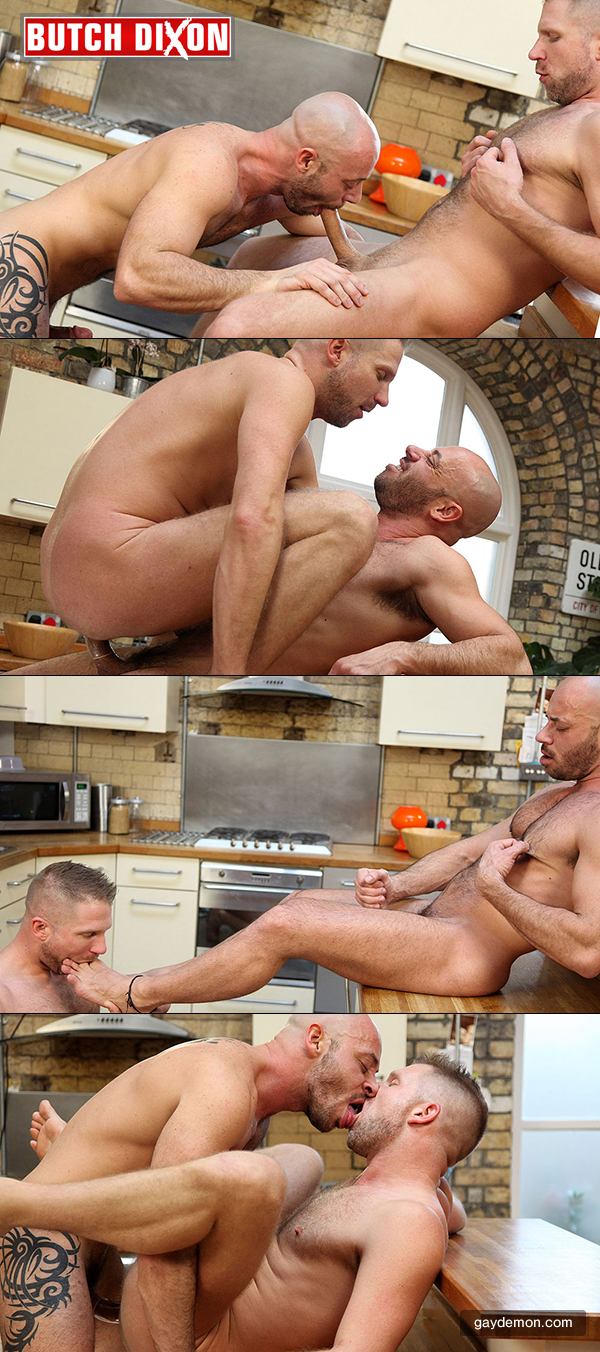 It's been a long while since we've seen Freddy Wolff. The tall, furry Swede and his huge uncut cock did a lot of filming at UK Naked Men back in 2007 to 2008, he even appeared again briefly in 2010. I don't know where he's been, but he's popped up on Butch Dixon in a scene with muscle hunk and power top Bruno Fox. I hope Freddy is going to stick around for a while.
If you don't want to get wet, you shouldn't have sex with Bruno Fox. He's got a hot mouth with plump lips and he loves using them -- deep kissing, armpit licking, nipple chewing, dick sucking, and ass eating. Before Freddy feels Fox's hard-on in his ass, almost every inch of his hairy body has been slathered by Fox's tongue.
But Freddy's got a hot mouth too and puts it to use giving Fox a footjob and sucking his nobby toes. He moves up to Fox's fat uncut dick, then Freddy kneels doggy style on the two-tiered kitchen counter. Fox stands on a stool and opens the Swede's horny hole with his thick meat, then he makes that counter shake and Freddy groan with his hard thrusting. These men put that wooden counter to get use until they're ready to splash each other with cum. One gets a face full, the other's hairy chest is doused, but I won't totally ruin the surprise.