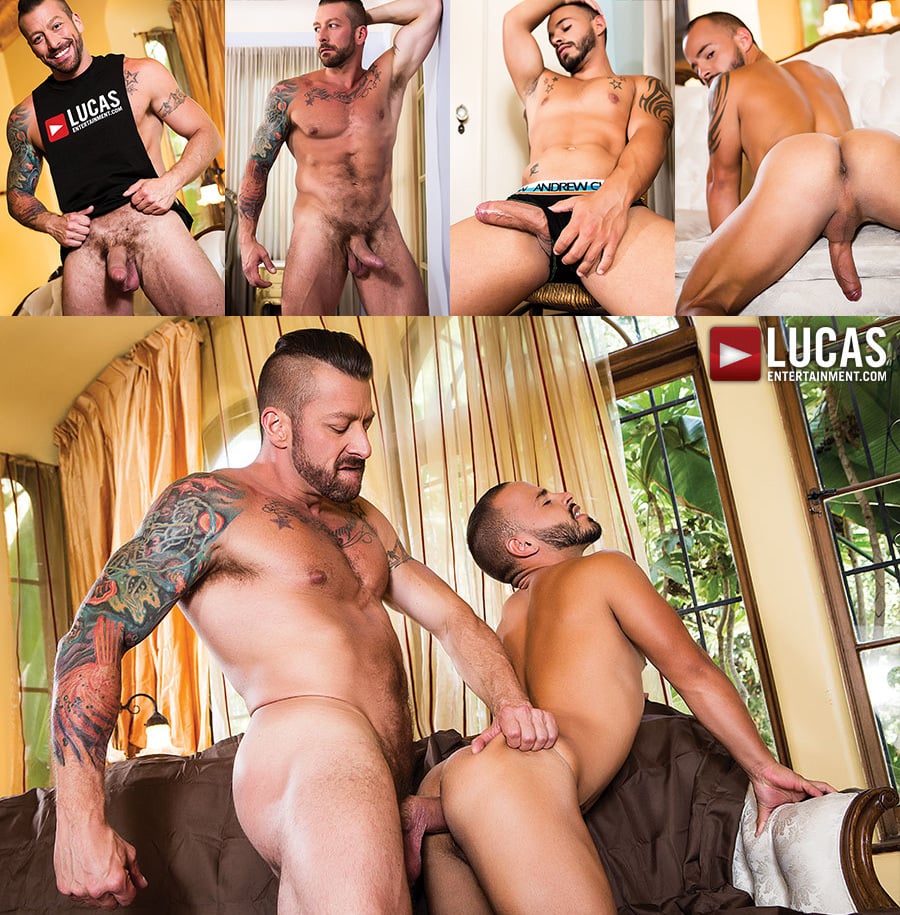 Poor Rafael Lords. He was paired up with Hugh Hunter to film another episode of Hole Wreckers for Lucas Entertainment. And this one lives up to its title. Not only does Hunter have a huge cock, but he outweighs Lords by 100 pounds and he doesn't go easy on the lad. Hunter doesn't just pummel Lords tiny ass, but he screws him in some very horny positions. Does Rafael get his hole wrecked? Come inside and see.
At 5'11" and 230 pounds, Hugh Hunter towers over Rafael Lords who barely makes 5'4". Lucas Entertainment calls this scene, "Rafael Lords Services Hugh Hunter's Daddy Dick," but that gives us the impression that Hunter lies back and gets his cock sucked in a slow, leisurely fashion. Nothing could be further from the truth. First, when it comes to oral, Hunter's dick isn't easy to swallow. It's nearly nine inches long and those last couple of inches at the base are extra thick. Hunter holds Rafael by the head and makes sure he swallows the whole thing. Every damned inch of it.
He pounds the lad on the sofa doggy style, then Hunter sits back and holds Rafael in his arms and smashes his ass on his giant cock. And those last two inches really stretch Rafael's hole good. On his back, on this knees, standing, sitting, lying, Rafael takes Hunter's huge cock anyway imaginable. But the finale is the best. Rafael rides Hunter in reverse so we get a clear view of Hunter's huge dick stretching his hole. He pulls off and Hunter explodes all over his hole, then Rafael sits on his cummy cock and bounces hard while jacking his own dick. Thick gobs of jizz slide down Hunter's hard-on while Rafael fucks it; Hunter is going insane, his cock can't take much more. Finally, Rafael explodes and cum flies everywhere. Man, this was a sizzling scene. I've got to watch this one a couple more times.
See more at Lucas Entertainment