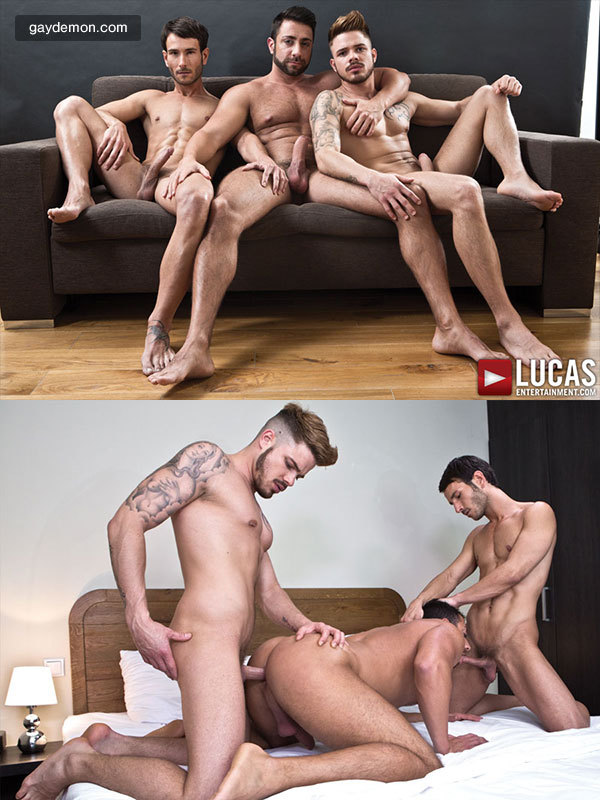 I haven't seen a Valentino Medici video until now. He's not brand new to gay porn, but there's too much to watch and a porn blogger only has so much time in a day. I've seen Fabio Lopez before, but not as a top. And I've never seen Mark Sanz in action. So when Lucas Entertainment throws these three men together in a hotel room for a bareback threeway, I'm pretty stoked to watch.
Fabio does doggy style on the bed and gulps Valentino's impressively thick cock. Meanwhile, Mark takes up the rear and feasts on Fabio's hot butt. Fabio is a great cocksucker with lots of deep-throat action and spit trailing off his lips. And Valentino isn't the type to stand there and get blown, he's a good dirty talker and takes over with some sizzling face fucking.
Fabio does most of the fucking here. While Valentino sucks Mark's dick, Fabio stuffs the hunk's big round ass. I'm surprised when halfway through the scene Fabio is making the cum grunts. Valentino leans back and they kiss while Fabio fills his ass with jizz. Then Valentino is back to gulping on Mark's cock while Fabio licks his cum load off the hunk's hole. Valentino squeezes another creamy taste out of his ass. Fabio's dick is still rock hard, so he slides it back in for some more pumping.
But things are just getting started and these three men make an afternoon of it. Fabio fucks both Valentino and Mark, then they grunt it out in some daisy-chain fucking. Fabio sits on Mark's hard-on and Valentino stuffs his in there too. Who knew three men could cram so much hot sex into 33 minutes. I'm going to have a second and third look at this one, I can feel it now.
See more at Lucas Entertainment