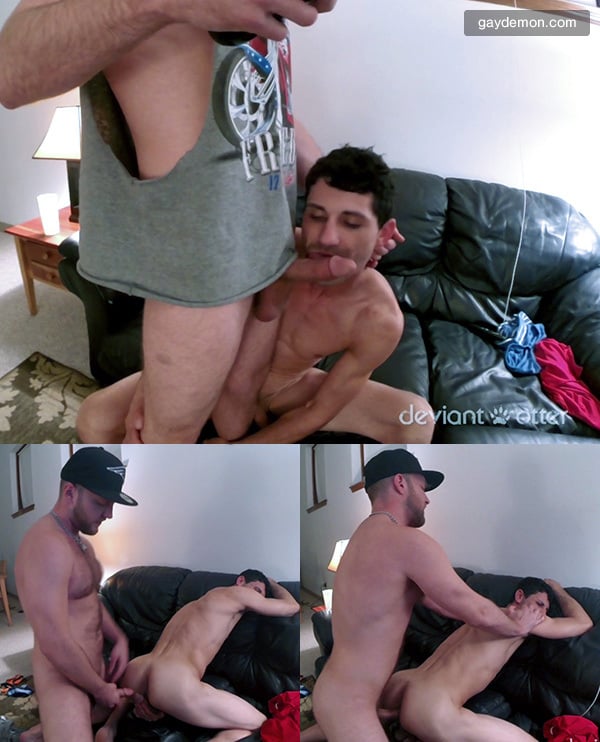 Devin Totter met this guy a couple of months back at his buddy Aiden's place. (Devin doesn't name the guy, so let's just call him Mario.) During that initial meeting Mario asked Devin what he did for a living and Devin talked about running his amateur site Deviant Otter. And they left it at that. Devin says he was getting mixed signals on whether Mario was straight or gay, so he didn't bug him about coming over and making a video for the site.
But as these things often go, Devin's porn site churned around in Mario's head for the next few weeks, and finally his curiosity got the better of him. So Aiden calls Devin to say that Mario would definitely be up for fucking on camera. When Mario arrives the guys chit chat for a bit, then Devin wants to see his cock, so Mario pulls down his shorts. "Holy shit!" Devin says when he sees Mario's heavy-hanging donkey dick. It's really long. "Yeah, I don't know, you might have to fuck me," Devin adds.
Devin's not in a hurry though, and he wants to build the anticipation of feeling this giant cock in his ass, so they guys swap blowjobs and get into some deep throat 69ing on the couch. Then he bangs Mario every which way he can, and when Devin can barely hold his nut in for another second, he offers up his hole. Mario gets his turn and fucks Devin all over the couch. In the final round, Devin's lying on his back and Mario is power drilling his hole and that's about all he can take and busts all over himself with Mario's humongous dick pumping his hole. Then, as you can see, Devin leans over Mario's huge cock and opens his mouth for that giant squirt of cum.