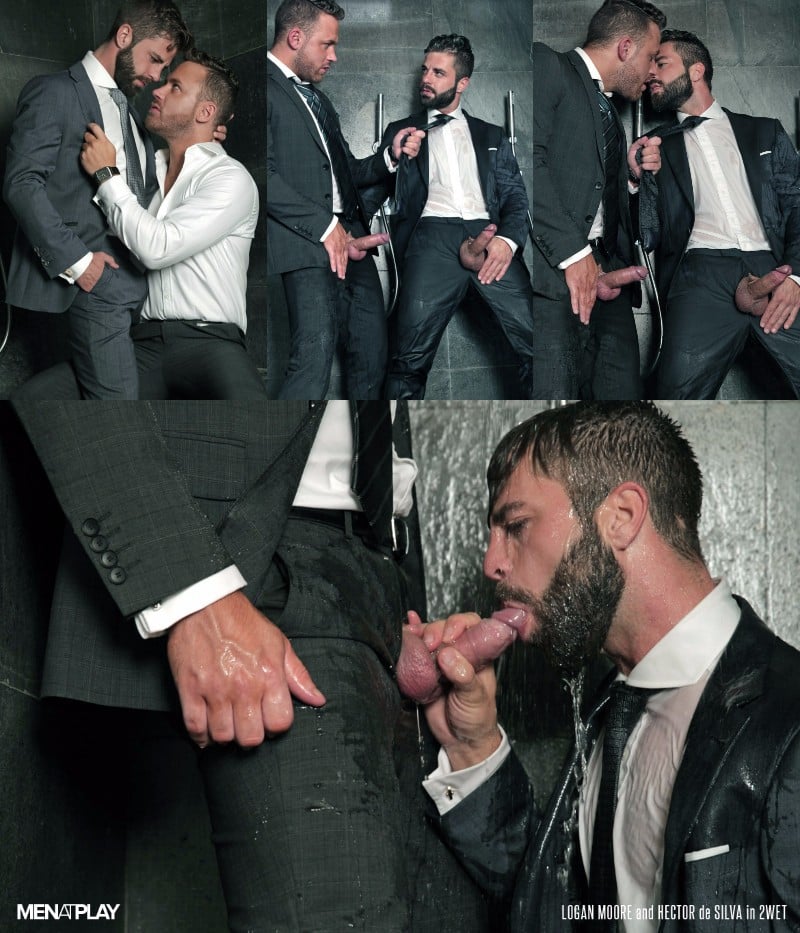 ---
Scene Pictures
Men at Play gets a lot of emails requesting they pair this man with that one. But the site says that Logan Moore and Hector De Silva are the most requested couple. I couldn't agree more, but I'll go one further: you could pair Hector De Silva with a toothless, one-legged hillbilly with a hump and I'd happily watch Hector screw him. Come inside and watch Logan and Hector getting wet in the shower.
This is another one of those scenes for the Men at Play where I'm thinking about their dry cleaner. Not only did these suits arrive at his store wet, but yet again, the dry cleaner must have been scratching his head wondering how one pair of trousers ended up split right up the arse. I'm sure the dry cleaner knows how this happened by now, but still, it's fun imagining the puzzled look on his face. And how did they get ripped? Hector was so eager to get as Logan's ass that he simply ripped them open and buried his face inside Logan's crack.
Watch two men in suits making out is hot enough, but watching them kiss and fondle under the shower spray is over the top. Wet fabric clings to skin, perfectly coiffed hair looses its style, and streaks of water slide everywhere. It's got to be hell for a couple of performers to film such a scene, but it's so worth it in the end -- it's sexy watching clothed men working themselves into a frenzy. Eventually the suits do come off and Logan leans against the shower wall and Hector drills his ass hard splashing water right up into the air.