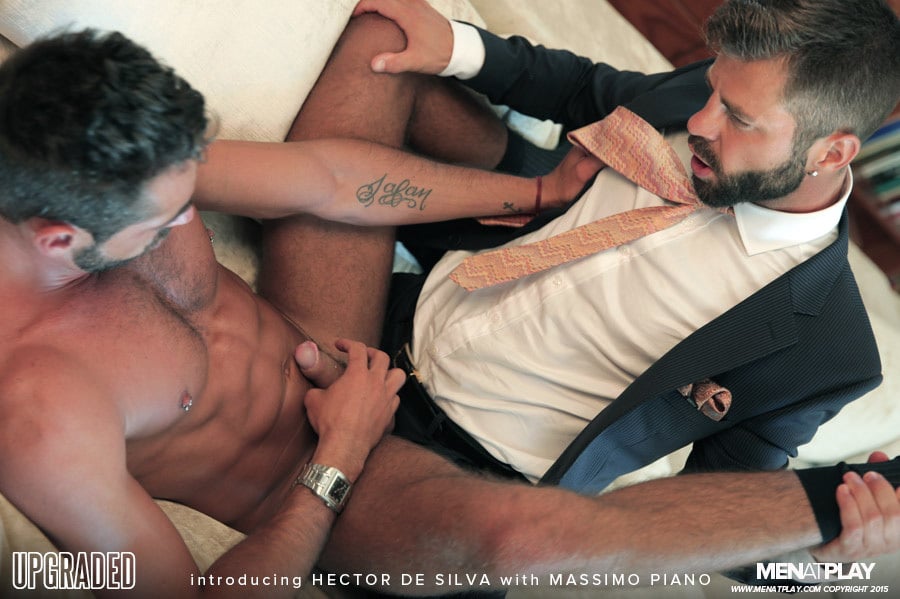 Hector De Silva is a trés sexy hunk, or I guess I should say muy sexy since he hails from Spain, and he's making his debut on Men at Play. I don't know how the site does it, they consistently discover and feature the hottest men. And not only will 31-year-old Hector blow you away with his trimmed beard and stunning blue-green eyes, but he's packing a big piece of meat and a huge pair of nuts. It's no wonder newcomer Massimo Piano can't help but fall to his knees.
Hector De Silva has just moved into the villa next door and manservant Massimo Piano stops by to return something that he borrowed from Flex, but the villa's butler has moved on. Poor Hector is without a house boy. He invites Massimo inside and they sit together in the living room. "I could improve your conditions," Hector says, then without asking, he unbuttons Massino's shirt and takes a peek at the stud's pierced nipples. (Are nipple piercings coming back? They seemed to go away for a while, but I'm noticing their twinkling reappearance here and there in Pornland.)
Massimo unzips Hector's fly and pulls out his boner, then he leans over and swallows the man's generously thick meat. Hector purses his lips and rolls his eyes back. Hmmm ... who is improving whose conditions? These two are on fire with lots of deep kissing and caressing, a stereotypical pair of telenovela Spanish lovers oozing sex and passion. Hector strips Massino and lays him back on the couch, the hunk doesn't even take off his suit, he simply mounts Massimo and fucks him.