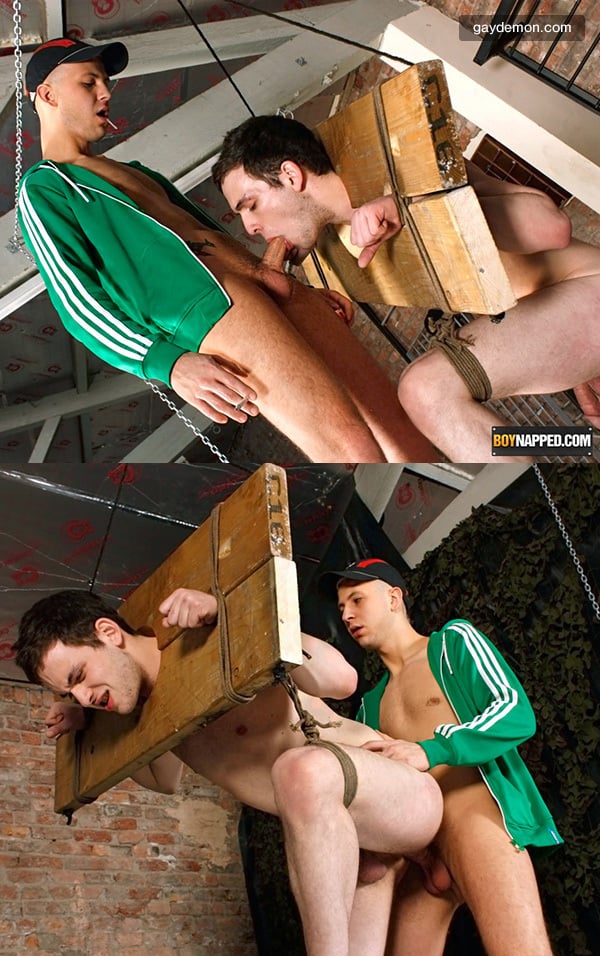 Being tied up and fucked is one of those fantasies I haven't fulfilled yet. I have been ropes to a St. Andrew's cross and flogged, but I've never giving myself completely as a sex slave like this lad, for no other reason that I simply haven't found the right daddy. But in this scene, Boy Napped has things all worked out for hung slave boy Nathan Gear.
When bad boy Deacon Hunter enters the dungeon, he finds his submissive naked and restrained in the stocks. It's hard for Deacon not to notice Nathan's dick, it's hanging heavily between his legs. The cocky top walks around to inspect his sex toy and cracks his hand across Nathan's ass. That gets Nathan's dick stiffening right away.
And I have to say that watching Deacon using Nathan got me pretty churned up, like maybe I need to do something about fulfilling that fantasy. He grabs Nathan's head and kisses him hard, then Deacon squats and swallows his boy's big dick and gets it even harder. Then Deacon pulls over a bench to stand on while rams his own big dick into Nathan's mouth. It's a good thing Nathan is a skilled cocksukcer because this nasty top boy fucks his throat hard. But not as hard as he drills Nathan's arse. Now that's a sight that got my nuts unloading.